Thank you so much for leaving me condolence messages on my previous post. I'm back in Bangalore now and decided to do a blog post today.
Having had loads of free time on my hands....I have been thinking a lot....what constitutes a good food blog? new recipes? a lot of recipes? good photographs? a lot of followers? giveaways? loads of comments on the blog posts? what does? My blog doesn't feature a lot of what I have mentioned above....but then I realised it doesn't matter.....as long as we find absolute pleasure in doing a blog post, we should keep doing it. At the end of the day blogging needn't be something to prove your worth, you should have something nice to say, definitely, but its so important to enjoy the experience. Armed with such great words of wisdom, I'm gonna start doing my blog posts again. :)
I'm not a big fan of bread in general. But come rain n' I can never refuse some good hot bread pakodas. The best part about them though, is the fact that they are so easy to make and most people are guaranteed to enjoy them. It so happened, a cousin of mine dropped in with her family one evening n' I, as always, had nothing to serve them n' these pakodas came to my rescue. So here you go...enjoy this simple snack...:)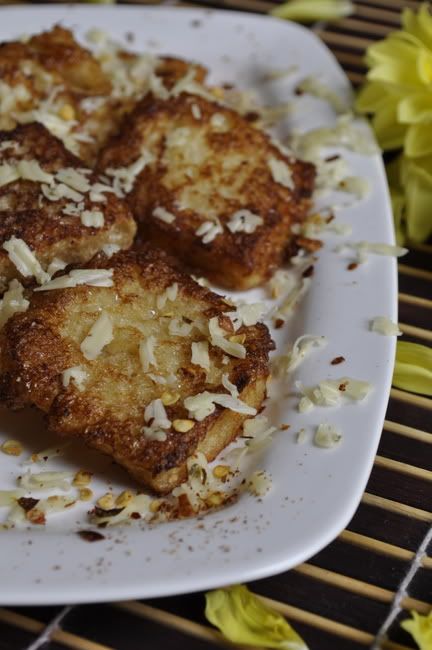 Ingredients:

1. Brown Bread: 3 slices (cut them into whatever shape you like)
2. Eggs: 2-3nos
3. Salt: as per taste
4. Chili Flakes: as per taste
5. Cheese: grate it as required (I have used Britannia's Sour Cream n' Onion Cheese cubes)
6. Vegetable Oil: as required (I do shallow fry so use very little oil for this)
Method:

Step 1: Slice/cut the bread pieces into the shape that you want.
Step 2: Whisk the eggs and add salt to it.
Step 3: Heat the oil in a pan n' dip the bread pieces in the whisked eggs n' fry them.
Step 4: Once fried, serve them on a plate n' sprinkle it with some chili flakes n' grate some cheese on top n' its ready.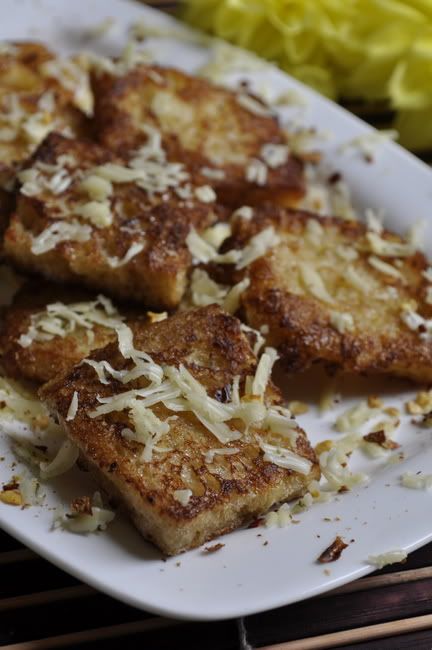 Being away from my laptop n' camera, I have been able to do a lot of things I had kept for later, like learning to stitch. My mom n' chechi stitch really well but I never sorta had an itch for stitching. But this time when amma came n' stayed with me, she bought me a sewing machine n' so I better start putting it to good use. I stitched 3dresses for my 2 n half yr old niece as she is starting play school soon. I don't have pics of those with me, chechi said she will send them to me soon, but attached is a pic of a skirt I stitched while in Bhopal. For a first time effort, I'm really proud of it. :)
I also found time to scout for some good recipes. I have been meaning to explore more, but haven't been able to manage the time to. Rj having been on his own for a while now, has been eating out every day, he can't cook a thing to survive. So all that 'healthy home made food is better' mantra, I kept telling him is down the drain. Now I really have to impress him with some healthy home cooking which tastes great. lol...Actually, I have a lot of posts to do of the dishes I had made before I went off, so I will quickly post those first.