After my happy experiences with the
Blueberry n Banana Muffins
and the
Mangoes n' Figs Muffins
, I decided to learn cupcakes. Both Rj n' me, we love vanilla cupcakes. Ok, I stand corrected, he loves it more than me. We used to buy them often before, but he turned sugar conscious a while ago n' we stopped buying them. I baked these babies n' he is begging for more on most days. Ever since I tried them the first time, I have made them twice again after that. That's how good this recipe is.
The recipe source?
Ria's Collection
. If you check her blog, on the homepage it self, you will see these oh! so pretty vanilla cupcakes she had baked recently with a friend. I had visited her blog to check out another recipe, but I saw these n' fell in love instantly. I just had to try them, n' the cupcakes comes out perfectly. The texture is just great. I didn't use the chocolate frosting, that will go well with this, just coz we like them plain. The lesson I learned from it? Find a reliable source for good simple baking recipes n' I can get over my fear and have good results. I haven't changed the recipe much, I have just reduced the amount of salt by half from Ria's recipe. With this I learnt the simple n' yummy basic cupcakes. My sincere thank you to Ria for sharing such a nice recipe.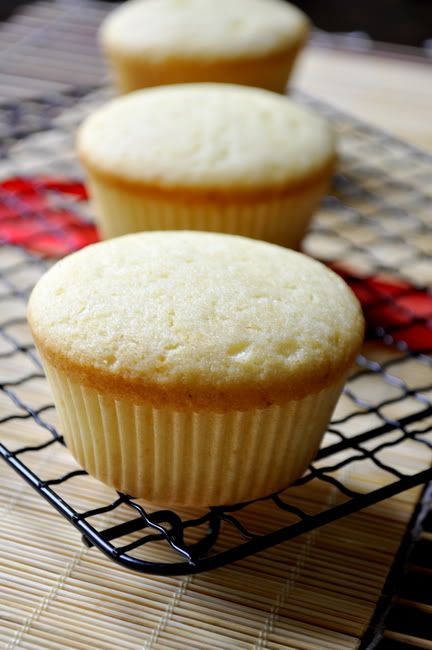 Ingredients:
(Makes about 16 cupcakes if you are using big cupcake liners)
1. All purpose flour: 2 cups
2. Baking powder: 2 tsp
3. Salt: 1/4 tsp (omit if you are using salted butter)
4. Castor sugar: 1 cup
5. Unsalted butter: 1/2 cup (room temperature)
6. Eggs: 2nos
7. Milk: 1/2 cup (room temperature)
8. Vanilla extract: 2 tsp
Method:
Step 1: Pre-heat the oven to 180C/350F. Keep the cupcake trays also ready by placing the cupcake liners in them.
Step 2: Sift the dry ingredients (Flour, Baking Powder and Salt) together, if possible, thrice.
Step 3: Cream the butter and sugar for 3 mins.Add in the eggs one by one and beat it will for 1 minute after each addition. (I'm guessing the time is mentioned coz we need to get the consistency right, I loved that bit of precision in the recipe. Great for an amateur like me.)
Step 4: Next with the motor running,add the sifted flour and milk alternately starting and ending with flour.By now the batter should be light and fluffy.
Step 5: Spoon it into the cupcake liners, about 2/3 rd's full, which will be about 2 1/2 tbsp.
Step 6: Bake for 20-25 mins or till the top is lightly golden brown in colour and a toothpick inserted into the center comes out clean. (it took mine only about 20mins)
Step 7: Remove from the tin immediately and let it cool completely before frosting (if you opt to frost it).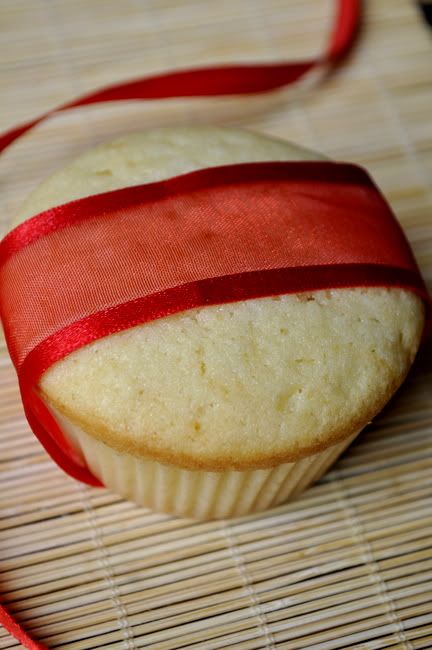 Honestly, I loved this recipe n' it helps me produce great results. In a span of 3 weeks, I have made this three times. Having guests at home helps. :) Happy cooking!!! or better still Happy Baking!!! :)