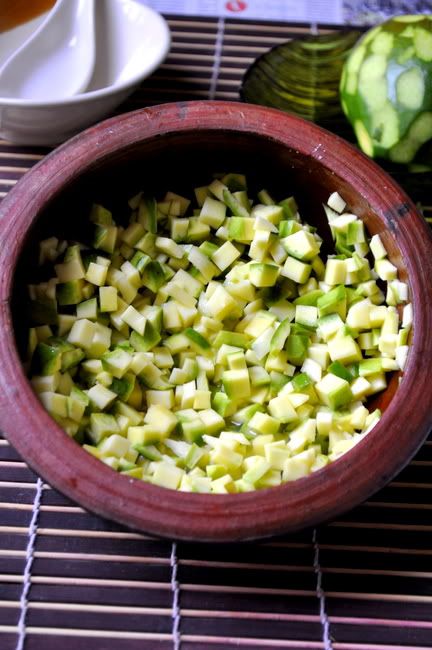 This is my third post on Mangoes this month, I had gotten distracted with my baking mission n' couldn't complete the hattrick as planned. :) This pickle, even though it comes under the category of a pickle is often mistaken n' eaten as a Mango Curry. Kanji, the most popular comfort food of a Malayali, is most often accompanied by this pickle. I love it so much, this is one of the first things I wanted to make the moment I got a kitchen to myself. The only thing is, I love eating it even without anything with it. I can just eat this in a bowl n' be happy about it. I have consciously stopped doing this, but the inane desire is to do just that, the moment I see this pickle is still there.
I can eat pickle with anything n' everything, that's how much I love it. But other than this, I don't make any other pickle at home. The white lime pickle, the no oil red lime pickle, the black gooseberry pickle, the mango with mustard seeds pickle etc that we keep a stock of at home are all supplied by my mom. This pickle has less shelf life than the other pickles. The recipe? Here you go. :)
Ingredients:
1. Raw Mango: 2nos medium (chopped or rather cubed into really small pieces)
2. Chilly powder : 2 tbsp (or as per taste)
3. Turmeric powder : 1/2 tsp
4. Salt : As reqd
5. Gingelly oil : 5tbsp (best for pickles)
6. Fenugreek(Uluva) powder : 1 tsp
7. Asafoetida(Kaayam) powder : 1/2 tsp
8. Vinegar : 3tbsp ( or more depending on the taste)
9. Curry leaves : 1 bunch
10. Mustard seeds : 1 tsp
11. Dry Red Chili: 1-2nos
Method:
Step 1: Add salt to the mango piece n' keep it aside for atleast an hour or 2.
Step 2: In a kadai/wok, heat the oil. Add mustard seeds, fenugreek seeds, dry red chilies n' curry leave. Allow it to splutter.
Step 3: Remove the kadai from the stove and add the red chili powder, turmeric powder n' asafoetida powder. (You are doing it off the stove cause we need to take care not to burn the powders used.)
Step 4: Mix in the mangoes into the above mixture. Allow it to coat well. Add vinegar. Check the salt n' add more if required. Keep it aside overnight or at least for 4-5hrs to allow it to absorb the spices.
If you ask me, its best served with everything. ;) But traditionally, its served with Kanji or Rice n' Curry. Happy Cooking!!! :)