I have been missing from here since a while now. Just having been having some issues with time management. Have been having people over at home n that has kept me off the Internet n' in the kitchen or out shopping with them. :)....I wonder how many awesome recipe updates I must have missed out on of my blogger friends out here. Well, I hope to catch up on that in couple of days...:) After my big proclamation about learning to bake in my kitchen itself. I have been kinda doing well in the baking department. I'm guessing it has something to do with the great recipes I have found. I'm gonna do 2 small posts today.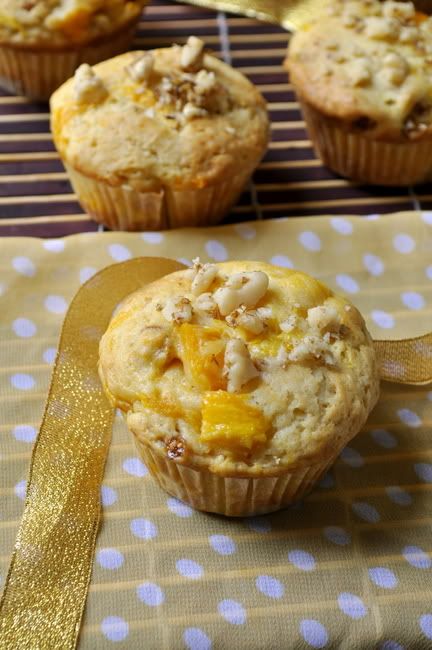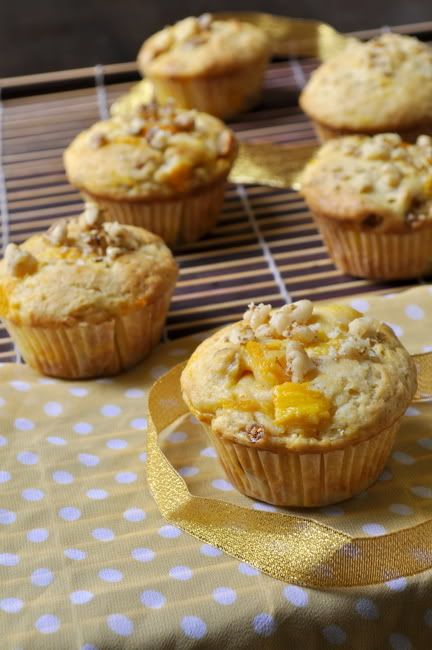 I'm baking something again today n' I'm looking forward to it already. The first post are these muffins. The
Blueberry Banana Muffins
I had done had come out so well I wanted to try some more. Just to make sure it wasn't fluke n' that I did have a great recipe n' some amount of skill to get it right. Why this combinations? I'm not too sure, I just went with things I like n' I had with me in the kitchen. With this second batch also coming out really well, I'm comfortable with my muffin recipe n' would substitute the fruits with anything in season n' know that they will turn out well. I have used the exact recipe from the Blueberry Muffins recipe
here
. The only change is I have used fresh ripe mangoes, along with some chopped figs n' crushed walnuts for sprinkling on top instead of Blueberry n' Banana. With this I salute my Muffin Recipe. I made 15 muffins using this recipe.
Ingredients:
1. All Purpose Flour (Maida): 3 cups minus 2tbsp
2. Baking soda: 1tsp
3. Baking powder:2 tsps
4. Heavy pinch of salt
5. Caster sugar: 1 cup
6. Vegetable oil: 1/2 cup (or half a cup of melted butter) *
7. Egg: 1no
8. Yogurt (plain n unflavored) : 1 generous cup (throw in extra if you want)
9. Mangoes(ripe n fresh):1 and a half cup
10. Figs (chopped): 1/2 cup
10. Vanilla Extract/Essence : 1tbsp
11. Softened Butter, for muffin tins (I used the cupcake liners so didn't need this)
12. Caster sugar (optional): for sprinkling on top.
13. Walnuts (crushed): to sprinkle on top
(* to my horror I saw that I didn't have enough Vegetable Oil with me. So I used melted butter instead. They say that while mixing the wet ingredients as mentioned in Step 3 below, one should take care while adding the hot butter to eggs. What I did was I added butter n' then added yogurt before adding the eggs n' I was safe.) This is what I had done for the blueberry recipe n' I did the same this time around too.
Method:
Step 1: Preheat oven to 180° C.
Step 2: In a large bowl sift flour, baking soda, baking powder, and salt. Set aside.
Step 3: In another large bowl whisk together sugar, oil, vanilla essence, egg, and yogurt.
Step 4: Add the dry ingredients (I sifted it in little by little) and stirring to a count of 10.
Step 5:Add the mangoes and the chopped figs, to mixture and stir 3 times. (At this point I got a little worried, coz the batter looked really different from anything I have ever baked. But I decided to proceed as instructed.)
Step 6: Add mixture to well-buttered muffin pans or like I mentioned the Cupcake liners. Sprinkle some walnuts on top and press down lightly. Sprinkle a little sugar over top. (Brown sugar can be used instead.)
Step 7: Bake 20 to 25 minutes and allow to cool completely.