Anyone who has added me as a friend on FB would know my Baking woes, I have updated it there often enough. I could always say, you win some you loose some n' just quit trying. But I just couldn't do that. I have almost never had a craving for sweets, cakes or cookies. But Rj is a die hard fan of anything sweet, he has the mother of all sweet tooth so to speak...lol..;)
So anyways, truth be told, i'm scared of baking. I have had so many of my baking efforts flop on me in the last 2months. Yet I see so many people doing it effortlessly n' successfully. If you have faced baking problems like me, you will know how irksome it really is. Do you guyz remember, Arundhuti from
My Saffron Kitchen
, gave me this book,
Sanjeev Kapoor's Cakes and Bakes
. It's a really nice book, but I still managed to goof up. If you have gone through my blog, you will know how big a
Sanjeev Kapoor Recipes
fan I'm. Along with Aru, I also, wanted to give a special thanks to Namitha from
Collaborative Curry
n' Maria from
Maria's Menu
too, who have listened to me patiently and answered my queries, whenever I have talked to them about baking. :) Ria from
Ria's Collection
was telling me yesterday, to go easy on myself and to relax and try again after a while to find my baking mojo back. But I was scared what if I loose track n' loose my steam. So she has recommended a few of her simple cakes recipes for me to try out. :) Thank you so much gal.
Madhuri from
cookcurrynook
, another established Baker like the others I have mentioned here, is a really good friend now. She takes bulk orders for baking, (how awesome is that, right?) knows so many digs in and around Bangalore where you can go pick up baking goodies n she is on first name basis with so many renowned chefs. ;) That's how cool she is. We attended this '
Active Foods
' workshop in Taj Gateway Hotel, Bangalore organised by
Food Lovers Magazine
. It was an awesome experience and
Chef Naren Thimmaiah
shared with us a lot of tips and recipes on healthy cooking. I had a wonderful experience, all thanks to Madhuri (who told me about it in the first place) and Food Lovers Magazine. :)
Coming back to the topic of baking, Chef Naren served us a Molten Chocolate Souffle with a Florida Orange Reduction. It was divine, to say the least. Sitting there I said to myself, thats what I will try first. I promptly tried it. It flopped on me, literally. It rose well enough in the oven, but 5mins after taking it out from the oven, it shrank to half its original size and tasted bad. :(...Here is a picture, just so you can get an idea. I also tried a Red Velvet Cake recently, it turned out as hard as those Red Angry Birds from the game Angry Birds....:( I tried a sponge cake to make Jam Rolls n it rose n' rose while baking in the cake tin n' had this smell of eggs after baking...eeks.. It was horrible. Let's me not say anything more. But anyways you get the picture. Having said that I should also say, I have successfully baked, a simple chocolate cake,
a Marble Cake
,
a Chocolate Carrot Cake
,
a Banana Bread
n' a
Chocolate Mud Cake
before.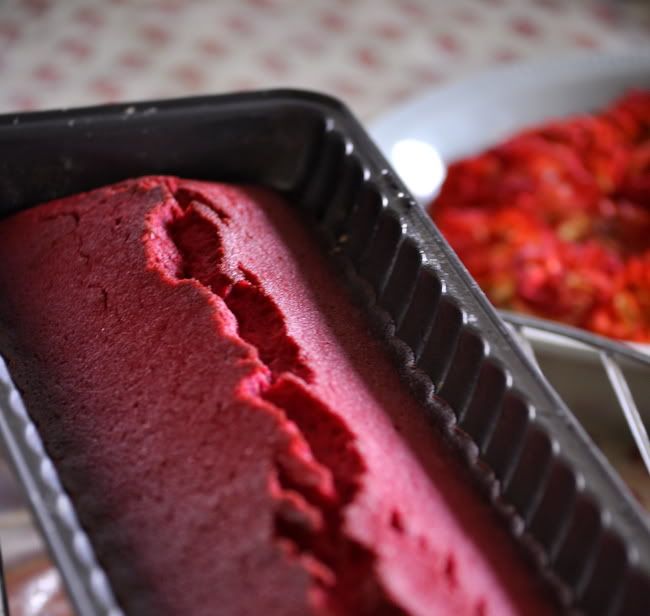 The contradictory part about this is the fact that the first time I baked, I was in my 8th Std in school. I used to make Butter cookies, learnt from a summer holiday workshop my mom sent me to. My grandmom, her sister n' one of my aunts are all really good at baking. I still remember how proud my ammachi was when the butter cookies I baked turned out well. I used to have fun distributing them too. :).But after that, I don't think I baked anything till we went to Bahrain. I have been told on countless occasions that practice is key in baking n' also follow the recipe to the last drop of the batter.
This post is dedicated to me and my Baking Efforts. I have decided I need to conquer this worry I have about Baking. This July, I'm planning to challenge myself and try to bake something or the other over the coming 2-3 weeks, lets say 4weeks. More like a baking class for myself, where the cook and the student is one n' the same. :) I realize this post is too long, so i'm highlighting this para for you. It would mean a lot to me, if you could recommend an easy but yummy baking recipe from your blog (sweet or savoury) to help me get better at baking. Looking forward to hearing what you have to say.

:)