This is my first post this year, infact its more like my first post since almost a year. Too many things have happened since we moved back to bangalore n' I have not been able to keep up with the bloggers here at all. But my work timing after I started working in Bangalore, left me with very little spare time. Now I have left my job, having decided to take a career break of sorts.
Have been meaning to get back to blogging since a month now, but just couldn't find that start. Today is my Ammachi's (granny's) b'day. She would have been a 100yrs old if she were here with us. She passed away 10yrs back. We were very close and I miss her on some days more than other days. She was an amazing n passionate cook. She was blind but that never stopped her from cooking. I rememeber how I used to sit by her side waiting for her to give me the cake mix bowl once she pours out the mix into the baking tin. Licking the mixing bowl clean esp if its a chocolate cake was an amazing experience. Infact she would leave some extra for me to polish off just coz I loved the dripping chocolate mix so much. But I never spent anytime with her learning to cook. I was interested only in eating what she made, I regret that now. I wish i had learnt from her, would've made me a better cook. So here I am, trying to get better at cooking and dedicating a post to her.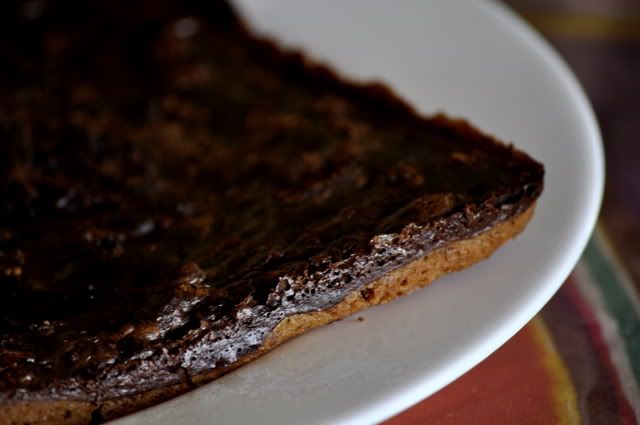 This recipe is called 'Magic Chocolate Mud Pudding' can't remember who I got this from. Yeah 'pudding' but for me the final result is more like a cake. I tried this recipe last week n' it wasn't great. I was amazed my instincts had turned faulty, coz I had fallen in love with the recipe and it didn't taste as awesome as I thought it would. So for the first time I decided to give it a try again. (I mean I never retry recipes which don't turn out well the first time around.) But I made a few changes and now it tastes really nice. I'm dying for RJ to come home n' taste it.
Ingredients:
1. Butter: 50gms or 1/4 cup
2. Muscovado Sugar (light): 200gms or 1 cup (generous)
3. Caster Sugar: 1tsp
4. Milk: 475ml or 2cups
5. Self- Raising Flour: 90gms or 1cup (pls refer to comments if you have only plain flour)**
6. Vanilla Essence: 1tsp (the original recipe asked for 1 tsp of ground cinnamon)
7. Cocoa Powder: 5tbsp
8. Vanilla Ice Cream to serve it with
** Mix 1 and 1/4tsp baking powder and a pinch of salt to flour if you don't have self raising flour with you.
Method
1. Pre heat the oven to 180°C or 350°F. Lightly grease an ovenproof dish and place a baking sheet inside. (since my oven heats up pretty quickly i did this step just before I mixed the dry ingredients to the wet ingredients.) It is mentioned that something like a soufflé dish is perfect for this.
2. Portion or Divide the Brown Sugar, Milk and Cocoa Powder as mentioned below.
First Portion
Brown Sugar: 115gm or 3/4cup
Milk : 150ml or 2/3 cup
Cocoa Pwdr : 1 tbsp
Second Portion
Brown Sugar: 85gms or 1/4cup
Milk : 325ml or 1+1/3rd cup
Cocoa Pwdr : 4tbsp
3. Place the butter in a saucepan. Add 115gm or 3/4cup of sugar and 150ml or 2/3rd cup of the milk and the caster sugar. Heat gently, stirring occasionally, until the butter has melted and all the sugar has dissolved. Remove from the heat. Add vanilla essence to this if you are using it instead of cinnamon.
4. Sift the flour, cinnamon (if you are using ground cinnamon instead of vanilla essence) and 1tbsp of cocoa into the pan and stir into the mixture, mixing evenly. (i used a hand mixer this time on low speed). Pour the mixture into the prepared dish and level the surface.
5. Sift the remaining sugar and cocoa poder into a bowl, mix well, then sprinkle evenly over the pudding mixture in the dish. Pour the remaining milk over the mixture.
6. The recipe asked for 45-50mins (but i thought this was too much) so i think you need only abt 30-40mins depending on the quantity you are using and the dish size. In any case, check after 30mins to see. The sponge should have risen to the top and it should be firm to touch.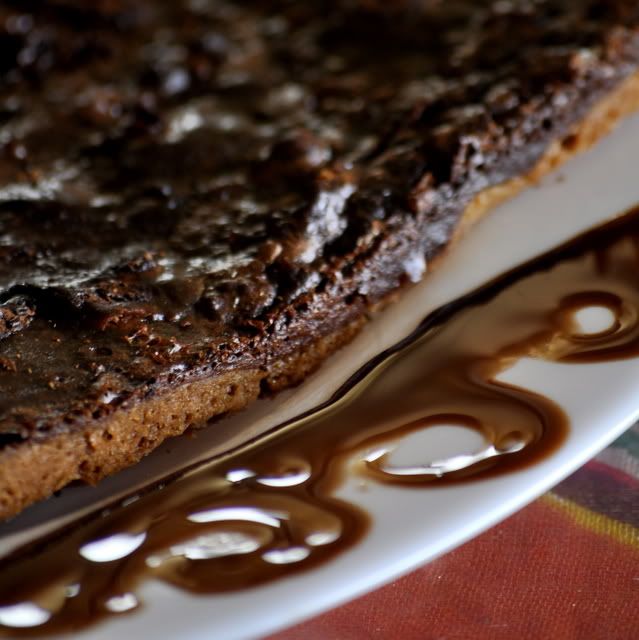 This is best served hot with some ice cream. Because it hadn't turned out well the last time, I reduced the quantity by half this time, but now i wish i hadn't. :) In my picture, it looks really different from a pudding or a cake coz it looks so thin. I didn't have a small dish to bake my small qunatity in, had to use the big baking tin itself. Will try n' post a pudding pic when I serve this to RJ with some icecream on top. Happy Cooking!