I have never cooked with Soya Chunks, no that's not true....I should rephrase n' say I have never successfully cooked with Soya Chunks before today. The first time, I heard about this ingredient itself was around 5yrs back. RJ asked me if I knew how to make anything with Soya Chunks n I was like..."what are Soyachunks?" (really I had no clue). I told him I have never had this back home. Since I was a newbie cook with a lot of enthusiasm n' zero skills back then, I told him I'll make him something with soya chunks. Lets just say it was nightmarish. I had never bought soya chunks after that.
I'm observing lent this year and have been trying to make some new (n' possibly interesting) veggie dishes for RJ, who is, please note not observing lent. :( This is not really easy. Then my cousin, who turned veggie a couple of years back told me about this interesting Soya Chunk Ularthiyathu which is like this perfect substitute for Beef Ularthiyathu for vegetarians. I told her the bad experience I had with soya chunks n she said...."onnu podi, it's really easy, try it!" (can't translate the words "onnu podi" into English n' capture its essence) :)
Then I saw the 2 blog posts with soya chunks on
Priya's Blog- Priya's Easy n Tasty Recipes
and got really inspired to try it. So here you go...
Ingredients:
1. Soya Chunks – 1cup( cook as per instructions given on the box or cover)
2. Onion- 1 no (big- sliced)
3. Green Chili- 1no (slit) avoid this if you don't want it to be spicy)
4. Homemade Garam Masala- 1tsp ('amma special' from home)
5. Chili powder – 1/2 tsp
6. Coriander powder – 1tbsp
7. Turmeric powder – 1/2 tsp
8. Ginger – 1/2inch piece (crushed)
9. Garlic – 1-2 pods (crushed)
10. Small Onion– 10nos (crushed)
11. Salt – as per taste
12. Vinegar – 1 tsp
13. Mustard seeds – 1 tsp
14. Curry leaves
15. Oil – 2tsp (let's try n' keep this healthy)
Method:
Step 1: Combine the powdered spices- Chili Powder, Coriander Powder, Turmeric Powder, Garam Masala, crushed garlic, ginger, small onion and salt to the cooked soyachunks. Set it aside at least for 10-15mins for the pieces to get marinated well with the spices.
Step 2: Heat oil in a pan, add mustard seeds and curry leaves. Saute the onions and green chili (if using), till it becomes golden brown.
Step 3: Add the marinated soya chunks and cook it covered for at least 10-15mins. (If needed add a little water at this stage.)
Step 4: Stir fry this uncovered on low flame and stirring occasionally till you get a dark color and it is roasted well. If you want you can sprinkle a pinch of garam masala just before taking it off the fire.
This is best served with rice or chapati and some mild gravy dish. Once I made this I realized, this dish is just so much like Beef Ularthiyathu. To those who have never tried Soyachunks, I won't lie and say this is as perfect as BEEF. For me Beef is like the king among meats. It does look so much like beef and but this is definitely more healthy. ;)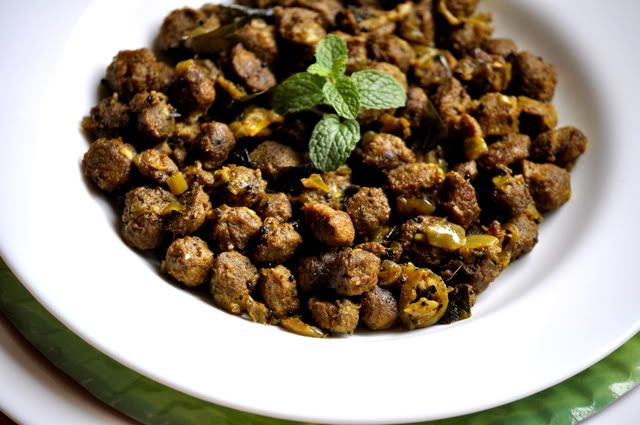 Another thing I wanted to let you all know is, Karen, a contributor to a Wiki project called
MyCityCuisine.org
contacted me a couple of days back asking me if I would consider posting an announcement that MyCityCuisine is currently looking for contributors. I told her well ofcourse! ;)...So fellow food bloggers who are interested, please go to this website.