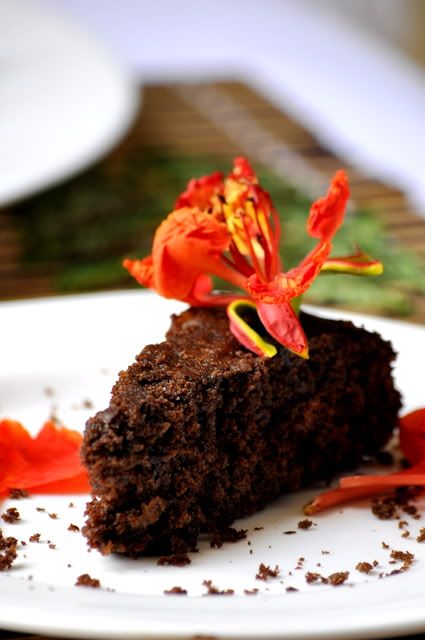 The first time I had freshly baked carrot cake with some freshly brewed black coffee....I really experienced heaven! My ex-colleague in Bahrain, Ruby Monkhouse, bakes the best carrot cake I have tasted. Jeff, Marise n' me, we would just wait for Rubz to bring some carrot cake treat for us. Rj on the other hand, who has never had them already declares he wouldn't like them. Rj is a foodie, but a real fussy one. Drive me up the wall most of the time.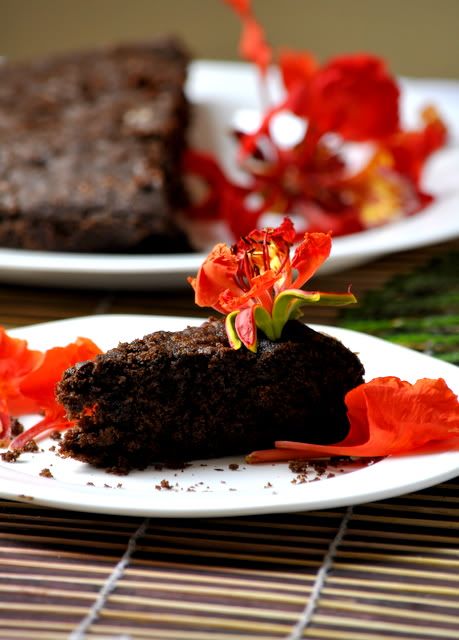 I have been craving for some carrot cake since a while, but have been putting it off thinking, I will eat one piece, max to max 2 pieces..then who would eat the rest? That's when I came across the idea of Chocolate Carrot Cakes n' I thought to myself...wow....this exactly what I need. I mean they don't look like carrot cakes at all...:) So I just went ahead n' baked them, we have finished almost half the cake n' Rj is none the wiser as to what the main ingredient is...the only comment he made was..."this chocolate cake is slightly different" n' I said, "yeah, it must be the walnuts!"....lol...(lucky for me he doesn't read my blog....lol) So here you go..
Ingredients:
1. All Purpose Flour: 1 cup
2. Baking Powder: 1 and 1/4tsp
3. Baking Soda: 1/4tsp
4. Salt- 1/4tsp
5. Eggs- 2nos
6. Carrots: 1 and 1/4th cup (grated)
7. Caster Sugar: 1cup (adjust this a little if you don't want it too sweet)
8. Butter: 1/2 a cup* (room temperature)
9. Vanilla Extract: 1 1/2tsp
10. Cocoa Powder: 1/2 a cup
11. Walnuts: (crushed) a handful (add more if you like it)
Method:
Step 1: Heat oven to 180°C or 350°F. Grease a cake tin and line the bottom with a greaseproof paper. ( my Oven becomes hot fast, so as part of saving power, i always do this step just before I mix the dry ingredients with the wet ingredients.)
Step 2: Sift together all the dry ingredients like flour, baking powder, baking soda, salt, caster sugar and cocoa powder.
Step 3: I would grate the carrots only at this stage. (as they will be fresher this way)
Step 4: Whisk the butter until really smooth n' creamy, add the vanilla essence and mix well.
Step 5: Add eggs one at a time and whisk well.
Step 6: Add the sifted dry ingredients in portions and whisk well,fold in the chopped walnuts.
Step 7: Pour out the same into the greased cake tin. Tap the bottom on to your work surface to ensure that there aren't any air bubbles.
Step 8: Bake it in the oven for about 30mins. Check the cake after 30mins, the centre of the cake should feel light n' springy, if you dip a toothpick in the centre it should come out clean. If you feel it is still sticky, bake it for another 5-10mins.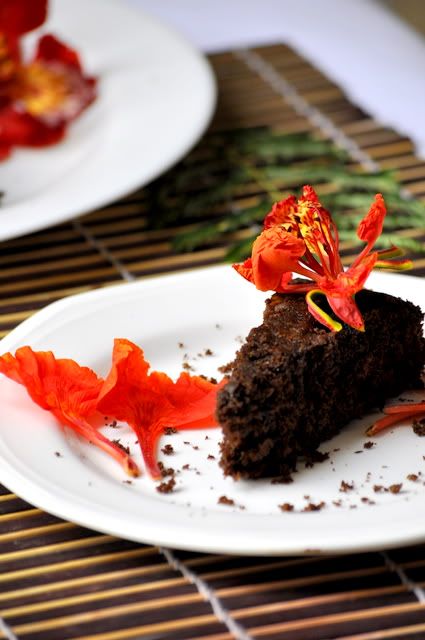 Cool it for 15mins or so and then cool it completely on a wire rack. I really liked it, but I thought it needs an icing, Ruby uses a Cream Cheese frosting with her carrot cake n' its just lovely, I haven't found cream cheese here in Bangalore yet, so couldn't do it. But a light icing would do wonders to this already great cake. Happy Baking!!