I'm in love with Jamie Oliver, I have been since a while now. To me no one is as rustic as he is in the kitchen. I haven't tried very many of his recipes, but he has this knack to make you love simple food. His TV shows, with him, in his kitchen garden nipping n' cutting, fills me with a need to have a kitchen garden of my own. :)
Anyways, let me just stop gushing about him (for the time being) by saying that I have used his Aioli Recipe for this simple chicken summer salad. Aïoli is a lovely fragrant and pungent type of mayonnaise.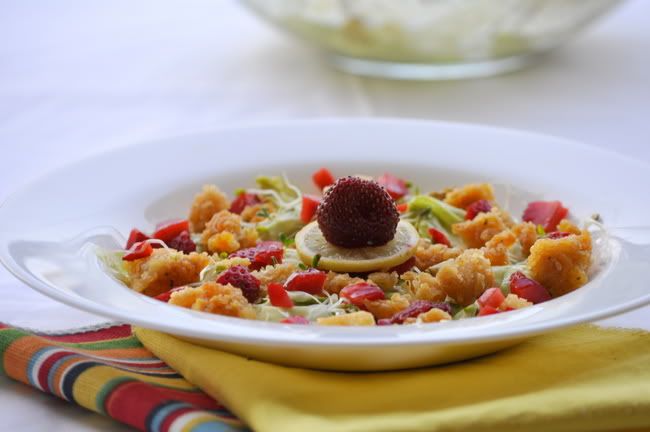 The ONLY (n' I mean "only") non veg junk food I love is this Chicken Pop corns on the KFC menu. I don't eat chicken burgers, i don't eat chicken wraps n' I don't eat their speciality Kentucky Fried Chicken. But these pop corns.....I find myself craving for them. Today having spend the whole morning out in the sun, I decided to get one portion of these Chicken Popcorn for myself to snack on while walking to the bus stop. But as I was stepping out of KFC, I saw my bus standing at the traffic signal n' rushed to get on it. I thought I'll eat them once I reach home savouring each piece one at a time. (lol...now do you know how much I love them??) While on the bus I started imagining this Chicken Salad with some crunchy greens and a rich creamy sauce using these chicken popcorn. This salad captures the essence of summer for me. Light, Crunchy n' Creamy. So here you go...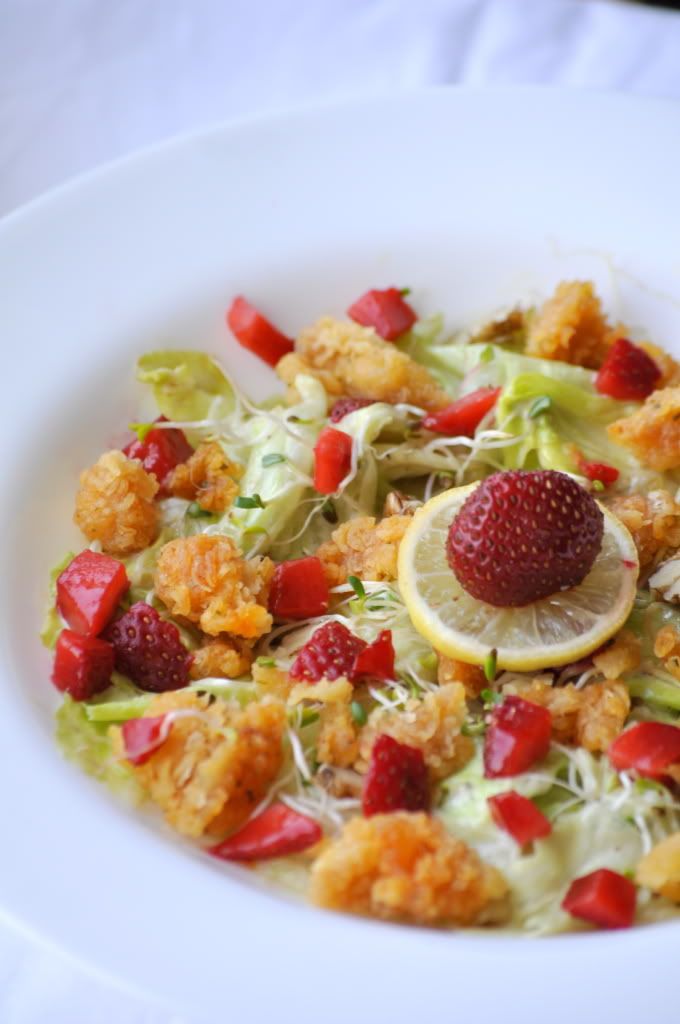 Ingredients:
For Aioli
1. Garlic: ½ a small clove of garlic (peeled)
2. Salt: as per taste*
3. Egg yolk: 1 (large)
4. Dijon mustard: 1 tsp
5. Extra virgin olive oil: 2 tbsp
6. Olive oil: 2tbsp
7. Lemon juice: to taste
8. Black pepper : as per taste (freshly ground)
*The Dijon mustard I bgt was already salty, so I have had to use very little extra salt.
For the Chicken
You can either grill some boneless chicken pieces or use a little spicy batter to deep fry small boneless chicken pieces (either way its gonna taste good)
Other Ingredients
Walnuts: 6-7 nos (chopped)
Strawberry: 2-3 (really ripe ones)
Lettuce Leaves: as required (I used Iceberg Lettuce coz they are so crunchy)
Alfalfa Sprouts: as required
Method:
Step 1: Crush the garlic and some salt in a pestle and mortar.
Step 2: Whisk together the egg yolk and mustard in a bowl
Step 3: Start to add your olive oils bit by bit. Once you've blended in a quarter of the oil you can start to add the rest in larger amounts.
Step 4: When it's all added in and blended well, add the garlic and lemon juice.
To finish it off the sauce, season to taste with salt, pepper and a bit more lemon juice if needed.
Step 5: Add the chopped walnuts to the Aioli. Add the shredded/torn lettuce leaves (tear the leaves with your hands, its better) to this and toss the leaves well with your hands. Into a plate, serve some of the coated leaves, sprinkle some alfalfa sprouts, the chicken pieces and chopped strawberry and its ready.