As I'm sitting down to type this post, I see I have mail from Arundhuti of
My Saffron Kitchen
, I quickly click on the mail and see that I have won my first ever giveaway prize and that too a cookbook called
"Cakes and Bakes" by Sanjeev Kapoor
. I'm thrilled to bits and I'm thanking Arundhuti from the bottom of my heart. I mean, I really need to improve my baking n now I feel like God and Arundhuti (along with Sanjeev Kapoor) is gonna help me achieve this mission. :) She mentions that she will be doing more giveaways, please do visit her blog for more details.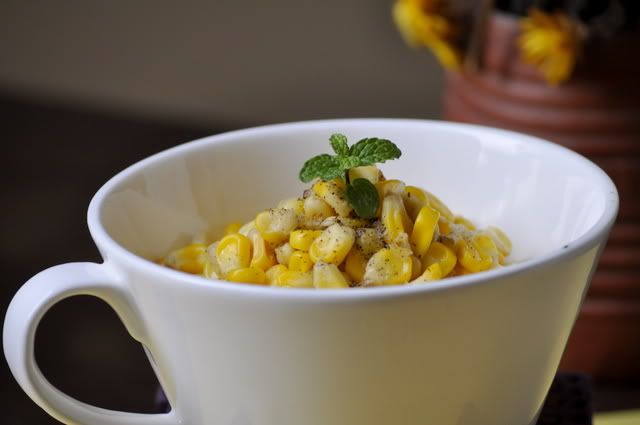 Coming back to this post,I saw some really fresh corn in the veggie shop today and decided to buy it, without having a clue as to what I want to make with it. I'm into finding out the benefits of my ingredients now. I mean if I can, I would love to eat healthy food and Corn I read is a good source of Zinc. But having boiled corn for this recipe, I wonder if the nutrients were retained. Anyway,I have had this flavoured corn in a cup at least a zillion times when we go out (mostly found in Malls). I used to have them even when we were in Bahrain. My favourite flavour is Lime and Pepper. So for a lazy Sunday evening, I decided to try making this as evening snacks. It turned out easy, healthy and tasty. Its really simple..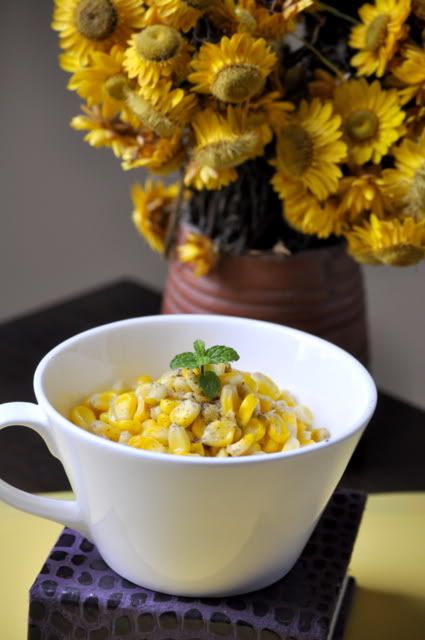 Ingredients:
1. Corn Pods/Seeds: of 1 medium sized cob
2. Butter: 2tsp
3. Lemon Juice: half a lime (or as per taste, i love it sour)
4. Pepper Powder: 1/2tsp 5. Salt: as per taste
6. Water
Method:
Step 1: Boil the corn pods/seeds in water. Add some salt to the water while boiling. Roughly 10-15mins. (The pods should almost double up in size and should become really soft.). Set aside and corn in a deep bowl. Retain a little of this water separately to use later.
Step 2: Melt the butter. Add the lemon juice to this and mix well. Add couple of spoons of the salted water used to boil the corn to this. (If you are using salted butter, just remember to keep checking the seasoning)
Step 3: Add pepper powder to the bowl of boiled corn, add the lemon juice mixture and whisk well to get the corn coated well, and this is ready to serve hot. :)
When we buy this, I'm always trying to lick off even the last drop of liquid in my cup. So when I made this at home, I decided to give myself some extra juice.:) In the theatre we spent nearly Rs.50/- for this much corn last week, having made this at home I don't think I have spent more than Rs.20/- on this. ;). Between,if you are wondering the reason why I'm garnishing every post these days with Mint, its coz I have a nice mint plant in my small terrace garden now. ;)
You can replace pepper with the other flavours like chili flakes, chat masala etc. Add some chopped tomatoes and you can serve this as a Salad. I'm sending this off to the event Souper (Soup, Salad & Sammies) Sundays hosted by Deb from
Kahakai Kitchen
.