I'm a big fan of chettinad cuisine, just the thought of the Beef Chettinad that I had in Goa, during our vacation in Decemeber, still makes my mouth water. But I haven't tried a lot of chettinad cuisine at home, other than this
Egg Chettinad
I had made long back. Rj had to go out of station on a family emergency n wanted to make something nice for him for dinner the day before he left.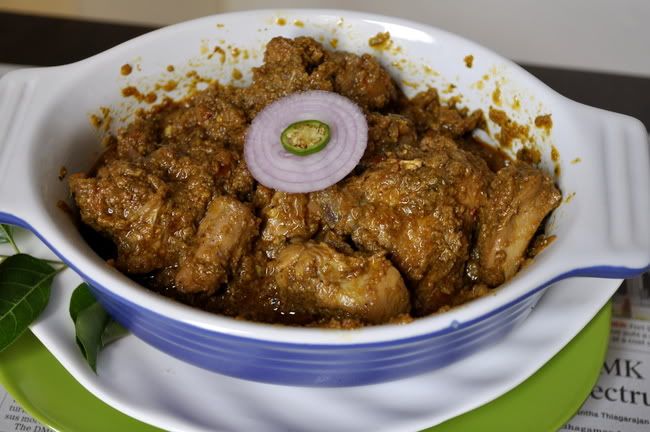 In a situation like this, I find it easy to rely on cooking expert Sanjeev Kapoor's recipes. I have complete faith in his recipes, like I always say they will never let you down, even if you are trying it for the first time! That's how I decided on Sanjeev Kapoor's Chicken Chettinad recipe. I have followed his instructions to the last dot n' it was amazing. I have always favoured my
Darbar Ki Karahi
and
Murgh Makhani
recipe for chicken if I want to make chicken it for a special occasion, but I have to say, this recipe is gonna be a stiff competition to all my previous chicken recipes. So here you go...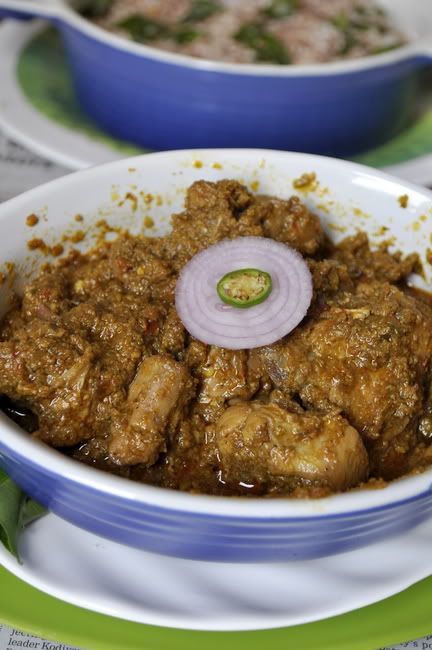 Ingredients:
1. Chicken : 500gms/ half a kilo
2. Dry Red Chilies: 5 whole pods
3. Coconut: 1/2 (scraped)
4. Poppy seeds (khuskhus): 1 tsp
5. Coriander seeds: 1/2 tsp
6. Cumin seeds: 1/4 tsp
7. Green cardamom: 1no
8. Clove: 1no
9. Cinnamon: 1/2 an inch piece
10. Star anise: 1/2
11. Fennel seeds (saunf): 1/2 tsp
12. Ginger: 1 inch piece (roughly chopped)
13. Garlic: 5-6cloves
14. Oil: 1/4 cup (the original recipe used olive oil, but I used regular sunflower oil)
15. Onion : 1no (medium) chopped
16. Curry leaves: 10-12
17. Tomato: 2 small or 1 large (chopped)
18. Red chili powder: 1/2 tsp
19. Turmeric powder: 1/4 tsp
20. Lemon juice: as per taste
21. Coriander leaves: 1tsp (chopped)
22. Salt: as per taste
Method:
Step 1: Roast dry red chillies, coconut, poppy seeds, coriander seeds, cumin seeds, green cardamom, cloves, cinnamon, star anise, fennel seeds in 1 tbsp of oil
Step 2: Grind the above into a paste along with ginger and garlic. (my mallu instinct worked overtime n' i tried using my new stone pestle n' mortar unsuccessfully to do this, so I had to do a little twist later, which I will mention)
Step 3: Heat the remaining oil in a kadai/wok and fry onion till golden. Add curry leaves and the ground paste and sauté for some time.
Step 4: Add tomatoes, red chilli powder, turmeric powder and salt to taste. (at this stage I could see that my paste needs to be a little more ground n ground the same in a mixer grinder to a fine paste. That is the reason why you can't see any tomato pieces or curry leaves in my pictures) Once I ground the same into a thick paste, I sauteed them for a min more in the same kadai without adding more oil.
Step 5: Add chicken and mix. Cook for five minutes and then add two cups of water, lemon juice, cover and cook till the chicken is done.
Step 6: Serve hot garnished with coriander leaves.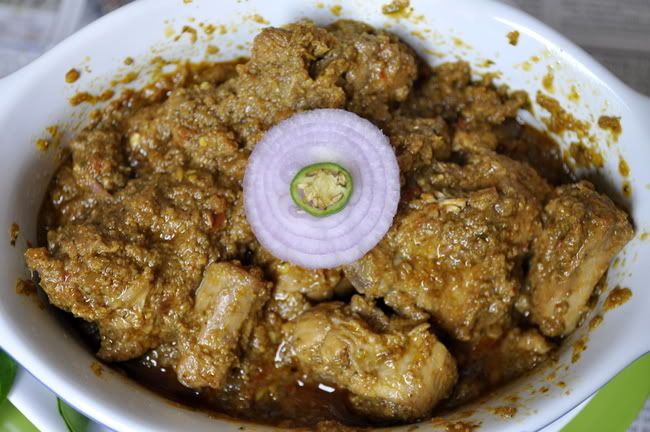 It is best served with hot rice or chapathi or even paratha. But I served it with puttu, coz after taking time out to decide on what to make n' the whole process above I had time only for something simple like puttu. :) Happy Cooking!!!