Today I was looking for a snap I had clicked of my niece a while back n' I found 3 dishes that I had not posted up here yet :). (This is dish no. 3 ). All these snaps were taken a little after we moved to Bangalore. I'm guessing, I just didn't have the time to post them up then. I'm gonna post all three today, just coz I already have too many dishes I had made this week which i'm yet to post. These recipes are good, but the snaps lack imagination, so don't let that fool you.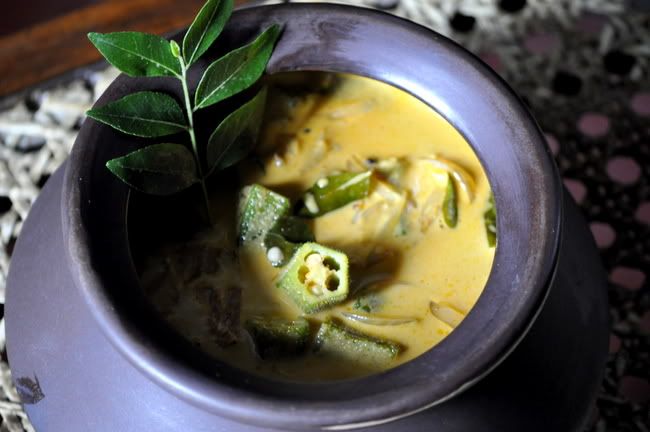 This dish was made at home in Kottayam, during one of my visits. I didn't make it, I just helped :). I suggested to amma saying that let me make this a guest post by her. She just point blank refused, saying if she were to do a guest post, might as well do something a little more complicated. lol. So the next time I go home, I'm gonna click some snaps of her complicated dishes...:)..This curry is really simple, easy to make n' very light. Amma actually takes the first extract n' the second extract from the coconut where ever she needs to use coconut milk. I guess store bought coconut milk, might not give this light texture. So here you go...
Ingredients:
1. Okra/ Vendekkai: 10nos (each cut into 3 pieces)
2. Onion: 1no small (sliced)
3. Green Chili: 1nos (sliced)
4. Ginger Garlic Paste: 1tsp
5. Chili Powder: 1/2 tsp
6. Turmeric Powder: 1/4tsp
7. Coriander Powder: 1 tsp
8. Coconut Milk: from half a coconut (first n' second extract)*
9. Salt: as per taste
10. Curry Leaves: 1sprig
11. Oil: 1tsp
12. Water- 1/4 cup
13. Vinegar- 1/2tsp
14. Black Pepper: enough to sprinkle on top
* if using store bought coconut milk, then 3/4 to a cup should do.
Method:
Step 1: Stir fry the okra pieces in a little oil for 3-4mins. Set it aside.
Step 2: Add a little more oil into the same kadai, add mustard seeds n' curry leaves n' allow it to splutter.
Step 3: Add the chopped onion, green chili n' ginger garlic paste to the above. Allow it to cook till the onions turn pink.
Step 4: Add the powders, turmeric, red chili n' coriander powder to the above. Add salt. Mix it well for the masala to cook properly.
Step 5: Add the pan fried okra into the above, stir it well with the masala.
Step 6: Pour some water n' cook it covered for 2-3mins (depending on how crunchy you want it to be)
Step 7: Add the second extract of the coconut milk first n' add the vinegar at this stage. (if you don't want to use vinegar, you can use a little lime juice or one chopped tomato.) Add the first extract of coconut milk to this. If you are using store bought coconut milk, do this in one step.
Step 8: Sprinkle some black pepper powder or garam masala on top n' its ready to serve.
This is best served with some hot rice. :) Happy Cooking!!!