Today I was looking for a snap I had clicked of my niece a while back n' I found 3 dishes that I had not posted up here yet :). (This is dish No.1 for today). All these snaps were taken a little after we moved to Bangalore. I'm guessing, I just didn't have the time to post them up then. I'm gonna post all three today, just coz I already have too many dishes I had made this week which i'm yet to post. These recipes are good, but the snaps lack imagination, so don't let that fool you.
I love drumsticks, growing up we had 2-3trees at home n' I used to never like them. Especially coz amma used to make so many things with drumsticks n' its leaves. :(...But ever since I start cooking, a
Sambar
for me is just incomplete without drumsticks in them. My best friend, Sandhra got married recently n' her mom in law (a great cook again) lives with them. Just as well, as Sandhra doesn't enjoy cooking at all these days...:) But I think its just a phase,(havevn't we had a time like this?) she will find her groove again soon. So anyways, her mom in law made this for her one day n' she was raving about it to me. So I just had to try it n' it turned out really well. Only thing is eating this is a very hands on job. :) So here you go.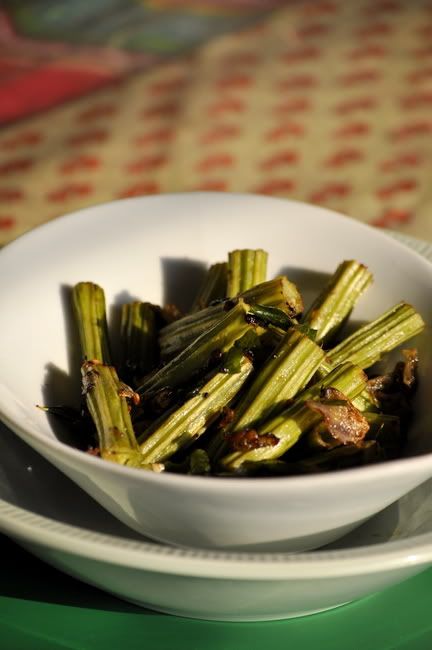 Ingredients:
1. Drumsticks: 2nos (cut like in the snaps)
2. Water: 1/2cup
3. Salt: as per taste
4. Green Chili: 1no (chopped)
5. Onion: 1/2 an onion (chopped)
6. Oil: 2-3tsp
7. Mustard: 1/2 tsp
8. Curry Leaves: 1 sprig
Method:
Step 1: Boil the drumstick piece in water mixed with salt. Once the drumsticks are cooked, let the water evaporate. (add a little more an 1/2 a cup of water if required to cook them well).
Step 2: In a kadai/wok, heat oil, splutter the mustard seeds n' curry leaves.
Step 3: Add the chopped Onion n' Green Chili. Let it brown.
Step 4: Add the cooked drumsticks to this n' stir fry it well.
This is ready to serve with some Mooru n' Hot rice. :) Happy Cooking!!!