Falooda is said to be an adaptation of the Persian dessert 'Faloodeh' and was brought to the Indian subcontinent during the Mughal period. It is a very popular cold dessert or beverage in India now. My mom used to make this for us every summer. Open the refrigerator and there will be this tall glass jar filled with pink milk n' I used to fall in love with it. I could never get enough of it. The best part of it was just not the color but the sabza seeds (basil seeds), I mean I had never seen anything like it before. When dry its all black n' dry n' the moment you pour some water over it, it just transforms. Not many children or adults even had heard about sabza seeds back when me n my sister were in school n' it became a popular drink with our friends n' cousins who would visit home.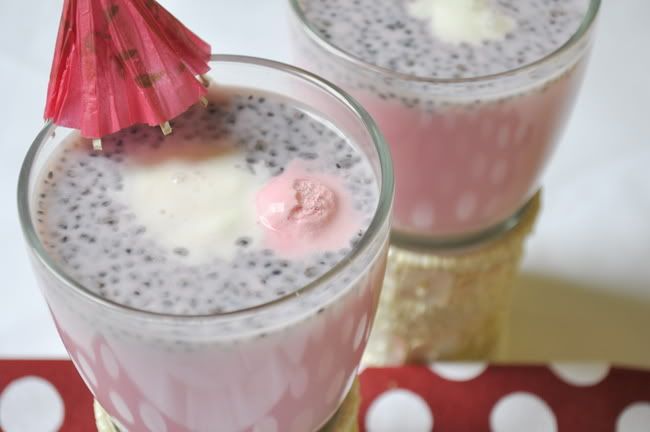 This time when my nieces came over for vacation, I kept some ready for them along with the
Mango Ice Lollies
n' needless to say they loved it. Rj didn't get more than a sip or two n' its one of his favourite summer drinks too. So once my chechi (sister) n' the kids left, I had to make it again just for amma n' Rj. That's when I asked amma for the first time, how she used to add the sabza seeds back then. My mom is a home science major n' have always liked cooking. She says the popular Indian magazine, FEMINA was a galore of awesome recipes n' tips in the 70's n 80's. I think, maybe even the early 90's, but now, sadly, its mostly pages n' pages of articles on make up n' gossip....(which I have no use of). So for the first time, my mom had Falooda at a northindian restaurant in Kottayam Main Bus Stand (her older brother (my uncle Thuppan) had taken her there before heading home from college one day). This was when she was 15-16yrs old, and the drink had Sabza seeds in it.
Years later, after she got married, she found this recipe for Falooda in a Femina. She found the sabza seeds in a traditional ayurvedic herb shop in Kottayam Chandha/Market. That's how this was a popular drink at a small Keralite, South Indian household in the 80's. (the recipe itself is going to occupy only half the space my ranting has taken up...lol) So here you go...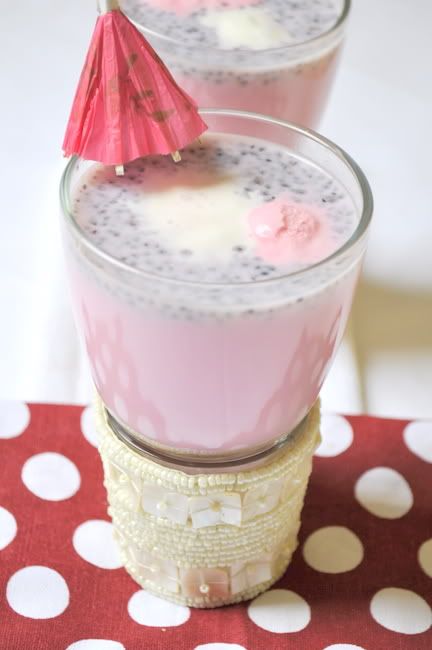 Ingredients:
1. Milk: 1 Ltr
2. Sugar: 1 cup
3. Cornflour- 2tsp
4. Rose Essence- 1tsp
5. Red Color- 1pinch or a little more (feel free to decide how dark or light you want it)
6. Sabza/ Basil Seeds: adequate
7. Vermicelli: 4tsp (optional)
8. Long grain Rice (pan fried n' coarsely ground): 2tsp (optional)
9. Jelly: 4tsp (chopped) (optional)
10. Ice cream of your choice: 3-4scoops
Method:
Step 1: Cook the vermicelli in boiling water. Strain and keep aside to cool. Then chill in refrigerator till needed.
Step 2: Add water to Sabza Seeds n' keep it aside. They will soon start to swell and look transparent with a small dot-like, black center. Strain and keep it aside in a small bowl.
Step 3: Keep aside 1/4cup of milk. Add sugar to the rest of the milk and boil it. Add the milk kept aside to cornflour and mix it well to dissolve it completely. Once the milk and the sugar mixture boils, add the cornflour mixture to it along with the fried ground rice. Stir the milk to thicken the milk. Keep it aside to cool completely.
Step 4: Add the rose essence and color to the milk. Chill in refrigerator till needed.
Step 5: To assemble the Falooda, in each glass, put a tsp of jelly, vermicelli, pre-soaked Sabza seeds. Now the falooda over them. Add a scoop of ice cream to this.
Garnish it with some slivered almonds and pistachios, if desired (i didn't do so). Add a straw and long-handled spoon and serve! Happy Cooking!!!