I'm feeling all down just coz my bestie, Nidz is unwell n' is not on FB today...:(....I would love to type more here just to keep myself occupied but don't want to bore you :)....So coming to this post, I love having sandwiches for breakfast especially on weekends, they are simple, easy n' you can add just about anything you fancy as an ingredient and it never fails...My amma specialises in sandwiches n soups I think (she makes them in a jiffy). She insisted I keep a few pieces of the chicken aside last week before making a curry and guess what? I was able to use that for these sammies. ;)I love referring to sandwiches as 'Sammies'. I made just enough for 3ppl, so please increase the quantity as per your requirement. Here you go...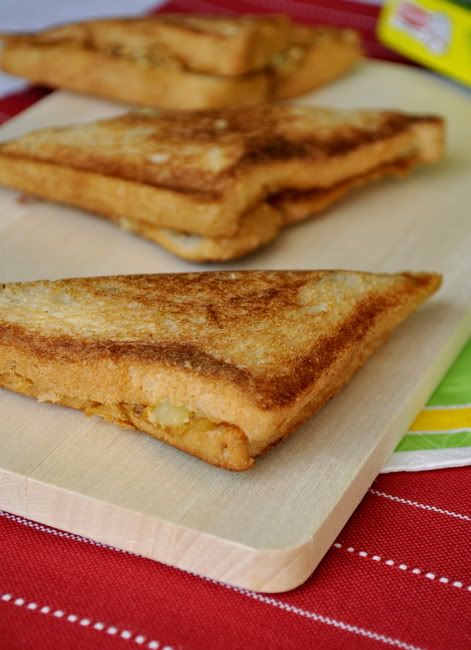 Ingredients:
1. Bread: 10slices
2. Chicken: 4-5 boneless pieces (medium sized- make them smaller to cook faster)
3. Onion: 1no (medium) finely chopped
4. Green Chili: 1 no (finely chopped)
5. Ginger: a really small piece (chopped or coarsely crushed)
7. Carrot: 1no (grated)
8. Coriander/ Cilantro Leaves: 1tsp (chopped)
9. Salt
10. Pepper
11. Oil
12. Butter: for spreading
13. Egg: 1no
14. Cheese: (optional)
Method:
Step 1: Cook the boneless chicken (small) pieces with a little salt n very little water. Keep checking to see if the water has evaporated. (Add little more water if n when you see that the water has evaporated before the chicken pieces are cooked through). Once done, keep it aside to cool.
Step 2: In a pan heat oil, add the chopped onion, green chili n' ginger and allow it to cook well.
Step 3: Add the grated carrots to the above n' keep it covered and cook it for 3-4mins.
Step 4: Scramble the egg in a separate pan and add the scrambled eggs to the above.
Step 5: Shred the chicken pieces and add it to the above along with chopped cilantro.
Step 6: Keep it covered n' cook for another 2mins, stir well n' adjust the salt. Add freshly ground pepper according to your preference of spice. (you can add a little garam masala instead of pepper at this point if you want, though I didn't do so)
Step 7: Spread some butter on one slice of the bread, add the filling, top it with some shredded cheese (if you are using any) cover it with another slice n' grill it in a sandwich maker.
I think this filling tastes better with grilled than plain bread. I know the snaps aren't looking as 'bite into me' as I wanted them to, but trust me it tastes great. I'm sending this also to the event
Souper (Soup, Salad & Sammies) Sundays
hosted by Deb from
Kahakai Kitchen
. Happy Cooking!