This was my appa's (father's) favourite evening snack. I remember amma making this n' keeping his share aside as soon as she makes it coz otherwise I would have finished it in no time. So I guess I liked this as much as appa did. I miss my father terribly, so many decisions would've have been taken out of my hands, making life so much simpler. He loved taking over. :) He was intelligent, complex, shrewd n' vulnerable if that is possible. Irrespective of having been a terrible teenager n a rebel, every single day I hope he knew/knows how much I loved him.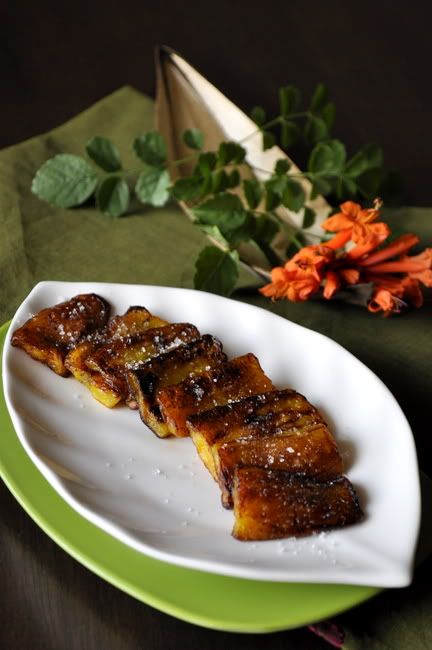 Coming back to this recipe, Rj doesn't enjoy this at all n' I'm secretly pleased with that, coz I still love it just as much n' don't mind not sharing it with anyone. I'm not sure this can be called Banana Ghee Roast, coz you just doing a quick shallow fry than roast, but the name sounded so suggestive I couldn't resist using it. :) I must say I haven't made evening snacks since ages, that custom is just not followed in my home. I guess mainly coz when I was working, we both came back home only after 7.30-8.00pm almost everyday. So anyway, I saw the French Chef, Manu Fiedel, making Caramalised Banana Fry on TV n' just couldn't resist making the Kerala/Kottayam version of it. I will mention his version in a little more detail below. :) So here you go.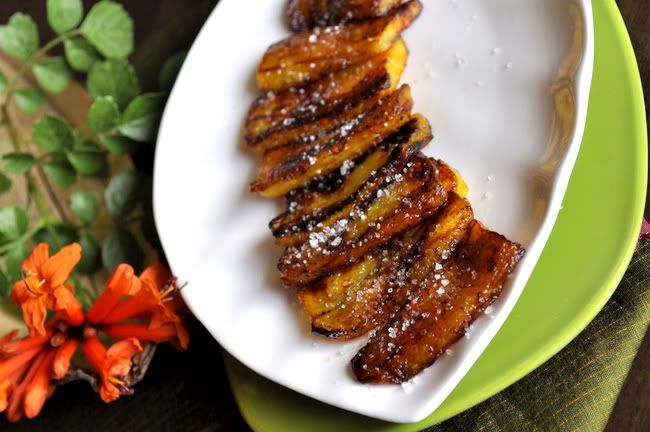 Ingredients:
1. Banana- 1no (preferably overripe ones)
2. Ghee- 1-2tsp (or more depending on how much juice you want in the end)
3. Sugar- for sprinkling
Method:

Step 1: Cut the whole banana into 2 or 3 depending on how long you want the slices to be. Slice each piece vertically (as seen in the snaps).

Step 2: Heat ghee in a frying pan, arrange the slices of banana without overcrowding it and shallow fry them.

Step 3: Arrange them in a plate n' sprinkle it with some sugar. And its ready. Serve it with some ice cream if you like to create a Dessert version of the snack.
The last time I went home, Amma made these for me using home grown bananas n' I swear the bananas were so sweet, I didn't have to add any sugar. Now for Chef Manu Fiedel's Version.
He used Butter instead of Ghee, used a lot more than my version. He added brown sugar into the hot butter first and then added the bananas whole instead of slicing it. To make the whole thing look a lot more exciting, he even flambé-d them in the pan ;) and served it hot with some vanilla ice cream. I must say it looked divine. But my craving for the home version, made me try that instead. Happy Cooking!!
I would like to thank Asha from
A Tasty Challenge
for the award she passed on to me.
Her blog not only has some really yummy recipes, but she had actually taken on a challenge to finish 262 recipes in 365days n' completed the same this May. I'm in awe, kudos to you Asha.