Today I was looking for a snap I had clicked of my niece a while back n' I found 3 dishes that I had not posted up here yet :). (This is dish no. 2 ). All these snaps were taken a little after we moved to Bangalore. I'm guessing, I just didn't have the time to post them up then. I'm gonna post all three today, just coz I already have too many dishes I had made this week which i'm yet to post. These recipes are good, but the snaps lack imagination, so don't let that fool you.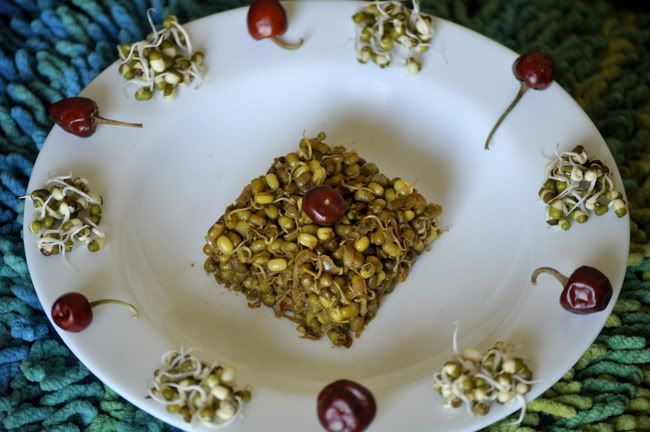 I love having sprouts, you must have figured that out from the salad recipes, like
Chicken Aioli Salad
n' my
Spinach Salad with Alfalfa Sprouts n' Feta Cheese
here. We normally eat it fresh in a salad n' since that taste great, I never thought of trying anything else. But my mom in law makes this really nice dry masala with this n' Rj is a big fan. Besides, who wouldn't like making a dish that their mom in law makes to perfection? lol. Ever since I made this the first time, we have had this as a side dish for chapathi almost every other week. Try it, its really nice... So here you go.
Ingredients:
1. Sprouts: 2 cup (I use Moong sprouts)
2. Onion - 1no (chopped)
3. Garlic: 3-4nos (crushed)
4. Tomato: 1no (small) chopped
5. Salt: as per taste
6. Cumin Seeds - 1/2 tsp
7.Chili Powder - 1 tsp or 1/2tsp (as per taste)
8.Turmeric powder - 1/4tsp or a little more
9.Garam Masala - a pinch or 2
10.Oil
Method:
Step 1: Heat oil in a kadai/wok. Add the cumin seeds n' let is splutter.
Step 2: Add the chopped onion n' crushed garlic to this. Fry it till the onions become translucent.
Step 3: Add the turmeric powder n' chili powder to the above. Stir it, allowing the masala to cook.
Step 4: Add the chopped tomatoes to this. Let it mix well in the masala. Add salt.
Step 5: Add the sprouts to this n' mix it well with the masala. Sprinkle some water on top n' cover it to cook it for 8-10mins. If it too dry stir it once in a while so that it doesn't stick to the bottom of the pan.
Step 6: Stir the above, adjust the salt, sprinkle some garam masala on top. Mix it well n' its ready to serve.
If you would like to give this dish a little pungent taste, sprinkle some lemon juice over it before serving. Happy Cooking!!!