Princess Diana had a fondness for the Bread and Butter Pudding that was made by her personal Chef Darren McGrady. He shares this recipe in his cookbook "Eating Royally". If someone were to ask me to think of the most good looking woman ever, I will say 'Princess Diana' without a blink of an eye. I found everything about her charismatic, there was something just so genuine about her.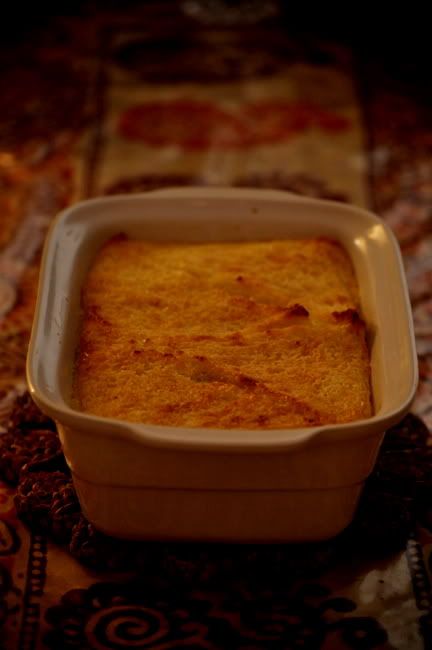 So anyways, coming back to this recipe, I had never ever made a bread pudding. (I wonder if I'm the only one out here who has never made one...)We have shifted to Oat meals for breakfast instead of bread...so when ever I buy bread now, I end up with left over. I decided to try this recipe just for luck n it clicked. Whats more...I have followed Princess Diana's favourite pudding recipe....;) What with all the hoo ha of the Royal Wedding that got over this weekend, I decided to do a blog post with a Royal Recipe! :) So here you go.
Ingredients:
1. White Bread: 12 slices (crusts removed)
2. Unsalted butter :1 1/2 sticks (melted) *
3. Egg Yolks : 9nos
4. Vanilla Essence: 2 tsp
5. Sugar: 3/4 cup
6. Milk: 1/2 cup
7. Heavy cream: 2 cups
8. Sugar: 2 tbsp (granulated-to dust on top of pudding)
9. Caster Sugar: 2 tbsp
***********************
10.Sliced almonds, lightly toasted : 3 ounces
11.Raisins: 3 ounces
12.Amaretto: 1/4 cup (liqueur)
* I used only 4 slices of bread and reduced my portion accordingly. But the recipe here is directly as it was published. For me 100gms of melted butter was sufficient. In India we don't get sticks of butter, so wasn't really sure how much was required. Also, I didn't add almonds, raisins n' Amaretto coz Rj doesn't enjoy biting into them in his desserts n' cakes. But I believe they would definitely enhance the taste.
Method:
Step 1: If you are using Raisins, soak the raisins in the Amaretto, and leave covered with plastic wrap at room temperature 6 to 8 hours or overnight. If you don't want to add liqueur in your recipe soaking them in Water should be fine.
Step 2: Preheat the oven to 350 degrees. Cut 4 slices of the bread into 1/2-inch dice, and spread the diced bread on the bottom of a casserole dish. Sprinkle the raisins on top of the bread cubes, and pour any remaining liquid over the bread.
Step 3: Cut the remaining 8 slices of bread in half diagonally, and then cut each half slice in half diagonally to create 4 even triangles per slice. Dip the triangles into the butter, and arrange on the top of the raisins, overlapping the triangles slightly. Pour any remaining butter over the top of the bread.
Step 4: Whisk the yolks, vanilla essence, and sugar in a large bowl until combined.
Step 5: Bring the milk and cream to a boil in a heavy saucepan over high heat, and pour the hot mix onto the egg yolks, whisking constantly.
Step 6: Pour the warm egg mixture over the bread, making sure all of the bread is coated, and set aside the coated bread for 20 minutes to allow the egg mixture to soak into the bread.
Step 7: Place the casserole dish in a roasting tray filled with hot water halfway up the sides of the casserole dish, and bake in the oven for 30 to 45 minutes, or until golden brown on top with the filling just set.
Step 8: Remove the dish from the oven and roasting tray, and sprinkle with the extra sugar. Sprinkle with the toasted sliced almonds, and dust with powdered sugar. Cool slightly, and serve warm with a jug of cream and some fresh berries.
Bad snaps are owing to the baking done in the night. :(...but the dish is rich n' nice. The chef says the final texture is a cross between a bread pudding and a crème brûlée. Happy Cooking!