My amma came n' stayed with me for a week n' my relationship with milk completely changed. :)...does that sound weird? But really, I couldn't make you understand what i'm talking about any other way. Now, I make curd, fresh cream, butter n' ghee at home. Well not all in one day...but you get the picture. I never knew it could be this easy. Cooking for 2, the only thing out of this which has a lot of demand on a daily basis is curd n' love how well the curd sets. I could give all the curd companies out there a run for their money...lol.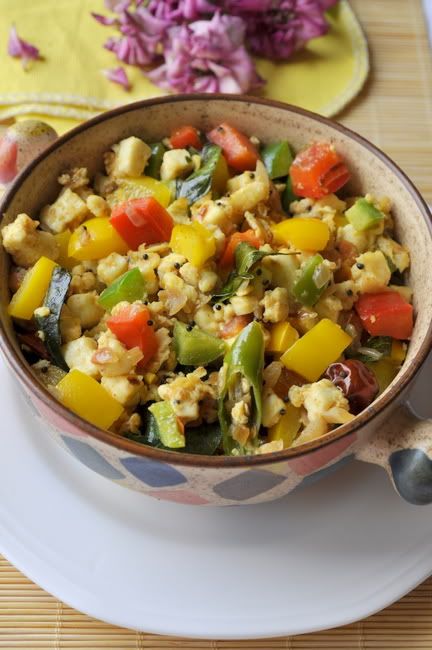 I'm digressing, what I wanted to say was, previous to amma's visit the only milk product I used to make at home is Paneer. But the major problem with it was I could never cut perfect cubes/squares etc out of my home made paneer. Coz they won't hold a shape like that. I would hang it in a muslin cloth n' end result is always a large ball liked shape that would love to crumble. So I had stopped making paneer at home for my dishes like
Punjabi Paneer Makhani
,
Hara Bhara Paneer
n'
Paneer Tikka Masala
. But my homemade paneer especailly coz it loves to crumble is best for Paneer Bhurji. On a day when you are not in the mood for elaborate cooking, this is just perfect with Chapathis. By the way I follow the Vahrehvah Chef Sanjay Thumma's instructions to make paneer at home.
This dish is by far the only thing I make without a written recipe. I searched online n didn't find any recipe I liked n' thought to myself, how difficult can making something like this without a recipe be. So here you go, my version of a Paneer Bhurji. :)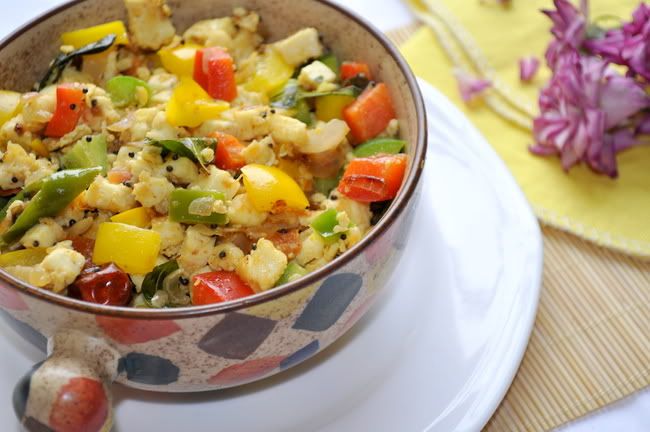 Ingredients:
1. Paneer: 200gms (soft paneer) crumbled.
2. Onion: 1no (small) chopped
3. Garlic: 4-5nos (chopped)
4. Tomato: 1no (deseeded) chopped
5. Greenchili- 2nos
6. Capsicum/ Bell Pepper- 1no (deseeded n' cubed)*
7. Egg: 1no (optional)
8. Turmeric Powder: a pinch
9. Chili Powder: 1/2tsp
10. Garam Masala: a pinch or 2
11. Oil
12. Mustard seeds- 1/2tsp
13. Curry Leaves
14. Salt: as per taste
* I have used yellow, red n' green capsicums just to get that burst of color, you can just use any one color n' it would still taste nice.
Method:
Step 1. Heat a oil in pan, add mustard seeds n' curry leaves. Let it splutter.
Step 2. Add chopped onions, garlic n' green chili and leave it to cook. (2-3mins on medium flame)
Step 3. Add turmeric powder, chili powder n salt, mix it well. Allow it to cook well.
Step 4. Add the chopped tomatoes to this.
Step 5. If you are adding eggs, scramble it in another pan n' add scrambled eggs to the above mixture. (I like the texture better this way, but up to you if you want to add the beaten egg directly to the above mixture, you can.)
Step 6. Add the chopped paneer to the above n' mix it well. Leave it to cook for a while. (Ensuring that the paneer does not harden).
Step 7. Add the cubed/chopped capsicum to the above. Mix it well n' allow it to cook for another 3-4mins.
Step 8: Check for salt n' add more if you need it. Sprinkle some garam masala on top n' its ready...:)
Happy Cooking!!!