I have socially busy day ahead of me and decided to do this post bright n' early! Ever since last Friday, I have been having busy days like these n' I love it. :)....To continue with my
Mango Posts
, I give you a chutney. I mean, I have had this so many times at home in Kerala with Kanji or just rice and a curry. You know how fashion gurus will tell you, a gorgeous scarf or chic handbag you are holding will make a simple outfit turn into a fashion statement! Well this chutney does that to my food. ;) (lol...yeah even I can see the funny side to that statement.) But really, I do mean it! This does turn a simple meal to a drool worthy finger n' plate licking experience. ;)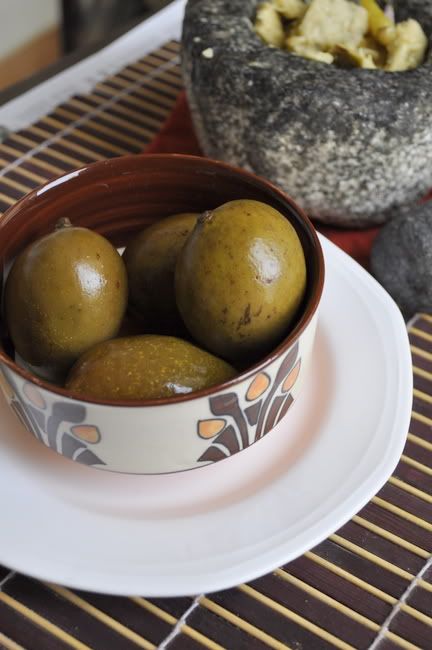 My mom tells me, I started making coconut chutneys on the regular arakallu when I was 6yrs old. (I'm sure she used to help ;) I used to put a stool next to the arakkalu n' gladly make the chutney. The only problem used to be that I would finish half of it as soon as I made it. ;) So then amma started giving me extra coconut for the "just for me" portions of the chutney. You know how small girls in kerala would play "Kanjiyum Curryum" during the holidays with friends n' cousins? In my case, we had a big parambu (backyard) and we would actually make the kanji on a small coal and stone stove and pair it with a chutney n eat it hot. Just the thought is mouthwatering for me. I bought a new pestle and mortar recently and decided to make this. Need I say, I loved the experience? So here is my version of the simple food fashion statement....;)
Ingredients:
1. Pickled Mango (Uppu Manga)- 1 or 2 (cut into small pieces)
2. Small Onions: 6-8nos
3. Green Chili (or pickled chili)- 3-4nos *
* (depending on how spicy you want it to be add more or less. But it tastes best when you make this chutney really spicy. I'm not adding any coconut to this chutney! )
Method
Just grind all the ingredients above into the chutney consistency that you want. I liked biting into these pieces, but some people like to have it in the form of nice paste. So I leave that up to you. You can also use this in the form of a dip for which you obviously need to grind this into a paste. :) Happy Cooking!!!