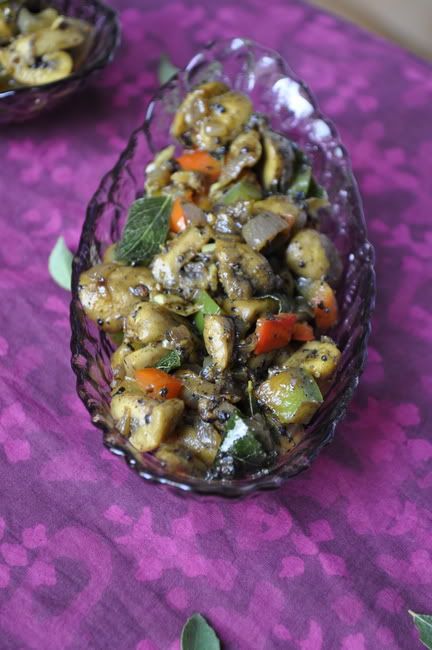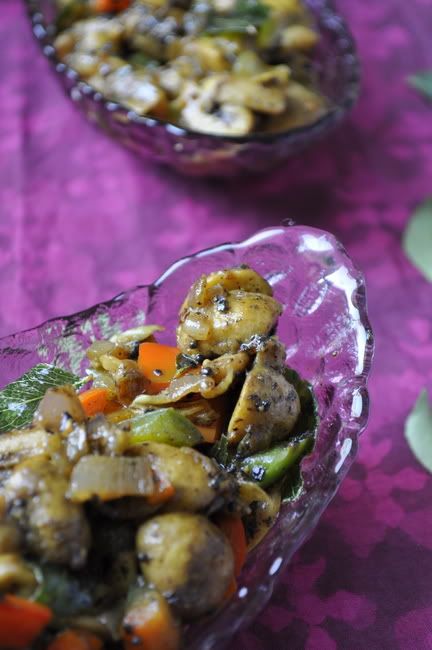 I love mushrooms in all forms. Some of the other mushroom recipes on my blog are,
Black Eyed Peas with Mushrooms
,
Mushroom Ragout on Garlic Toast
. There are very few things that Rj eats without any qualms, which aren't under the category of Non Veg food. Mushrooms happen to be one of them. So i'm always on the look out for an interesting way to cook them. This recipe is spicy n' really hits you with its flavours n' we love having it with a simple daal n' chapathi or rice. I have added cubed capsicum to balance the spice and its a winner. So here you go...
Ingredients :
1. Mushroom : 200 gms (each sliced into 4 pieces)
2. Onion : 1 no
3. Green chilies :2 nos. (slit)
4. Bell Peppers (Capsicum) : 1/2 cup (chopped)
5. Garlic: 1-2nos (crushed)
6. Curry Leaves: as much as you like (the more the better)
7. Pepper Powder - 3 tbsp (use freshly crushed for best results)
8. Oil - 2 tsp
9. Mustard seeds
10. Salt to taste
Method:
Step 1: Heat oil in a wok , add mustard seeds n' curry leaves to do a tadka.
Step 2: Add chopped onions n' garlic and saute till onion turns translucent.
Step 3: Add green chillies and mushrooms. Sprinkle salt on the mushrooms n' allow it to ooze out the water. On high flame allow the water to evaporate while stirring the mushrooms occasionally.
Step 4: Then reduce the flame to sim , add the pepper powder, stir it in n' allow it to cook well. Add the cubed/chopped bell peppers at this stage. (they cook quickly, n' hence I prefer to keep it crunchy i'm adding it at this stage. If you want them well cooked add them along with the mushrooms in step 3.)
Its best served with Daal, Rice or Chapathi. :)...Happy Cooking!