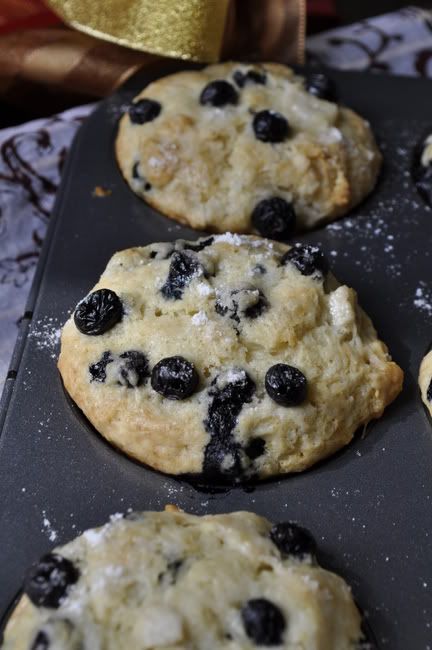 Let me start today's post by giving a heartfelt thank you to all who have left me a comment on my previous post. I will try the recipes you have taken the trouble to recommend to me. :) Here is my first post from a small series of Baking goodies I want to do this month. I had never made muffins before. I have eaten them a few times. But seeing these blueberries in the stall pushed me to buy them. I have heard on countless occasions how these are filled with anti oxidants, that pushed me a little too. I bought only a 100gms (what with the being so expensive in Bangalore n all that), that left me with very few recipes I could actually try. The first classic things that came to my mind were these Blueberry Muffins n' a Blueberry Compote on pancakes. But Rj doesn't like Pancakes n' I would've had to finish the whole thing on my own...how can that be interesting? That left me to choose these Muffins.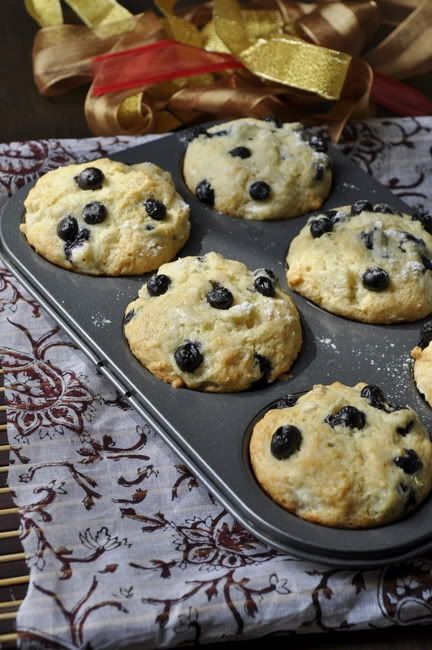 I really didn't know muffins were this easy to bake. An ingredient lead me to choose the dish, but boy am I thrilled with the results or what? So this is the first baked dish I taught myself. :) I will shamelessly say, what helped me the most is the fact that I didn't make any changes to measurements of the base ingredients. (normally i'm always keen on that coz I don't want too many baked things on my table) I got 15 baked muffins with measurements and there are only 3 left. :( If nothing else at the end of my baking journal, I will be overweight at this pace. :) But even that daunting thought is not killing my spirits. :) So, here you go. The recipe is adapted from
here
.
Ingredients:
1. All Purpose Flour (Maida): 3 cups minus 2tbsp
2. Baking soda: 1tsp
3. Baking powder:2 tsps
4. Heavy pinch of salt
5. Caster sugar: 1 cup
6. Vegetable oil: 1/2 cup (or half a cup of melted butter) *
7. Egg: 1no
8. Yogurt (plain n unflavored) : 1 generous cup (throw in extra if you want)
9. Blueberries (fresh):1 cup
10. Banana (chopped): 1 cup
10. Vanilla Extract/Essence : 1tbsp
11. Softened Butter, for muffin tins (I used the cupcake liners so didn't need this)
12. Caster sugar (optional): for sprinkling on top.
* to my horror I saw that I didn't have enough Vegetable Oil with me. So I used melted butter instead. They say that while mixing the wet ingredients as mentioned in Step 3 below, one should take care while adding the hot butter to eggs. What I did was I added butter n' then added yogurt before adding the eggs n' I was safe.
Method:
Step 1: Preheat oven to 180° C.
Step 2: In a large bowl sift flour, baking soda, baking powder, and salt. Set aside.
Step 3: In another large bowl whisk together sugar, oil, vanilla essence, egg, and yogurt.
Step 4: Add the dry ingredients (I sifted it in little by little) and stirring to a count of 10.
Step 5:Add blueberries and the chopped bananas, (reserving 1/2 cup of blueberries for later), to mixture and stir 3 times. (At this point I got a little worried, coz the batter looked really different from anything I have ever baked. But I decided to proceed as instructed.)
Step 6: Add mixture to well-buttered muffin pans or like I mentioned the Cupcake liners. Sprinkle remaining berries on top and press down lightly. Sprinkle a little sugar over top. (Brown sugar can be used instead.)
Step 7: Bake 20 to 25 minutes and allow to cool completely.
They came out so well, I looked at them and I could cry with Joy. I just couldn't stop smiling. Rj was at work n' I took some to my cousin Seena, who is passionate about baking. I just had to get her view on them. She liked them too n I was ecstatic. When Rj came home, he was balled over with the texture n' the fact that I used blueberries for the muffins. :) All in all I feel like a Happy Baker! Happy Baking!