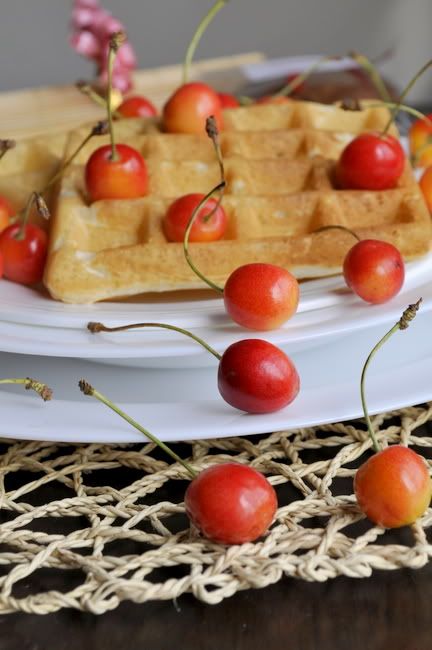 A waffle is a batter or a dough-based cake cooked in a waffle iron patterned to give a distinctive and characteristic shape. Waffles can be eaten plain (especially the thinner kinds) or sprinkled with powdered sugar. Ice cream cones are also a type of waffles or wafers. It is said that, there are many variations based on the type and shape of the iron and the recipes used.
I have had my waffle iron for a while now n' hadn't tried anything with it. One morning I woke up all inspired n' decided to try it out. Rj was fast asleep just the way I wanted him to be. He doesn't enjoy waffles or pancakes n' I encouraged myself to have some 'me' time for breakfast...:)
I used the simplest recipe I could find, so here you go.
Ingredients:
1. All Purpose Flour: 2 cups
2. Baking powder: 3 tsp
3. Caster Sugar: 1 tbsp
4. Salt: 1/4tsp (less or more as per your taste)
5. Eggs: 3nos (separated)
6. Milk: 1 and a 1/2 cups
7. Butter (melted) : 5 tbsps
8. Vanilla Essence: 1tsp (optional)
Method:
Step 1: Mix and sift dry ingredients (flour, baking powder, salt and sugar).
Step 2: Combine beaten egg yolks, milk and the butter and add the same to the dry ingredients, beating until smooth.
Step 3: Beat the egg whites until stiff. Fold the same into the above mixture.
Step 4: Pour batter into each section of a hot waffle iron. Cook waffles until crispy and browned.
Serve it with your choice of fruits or honey or maple syrup or even ice cream. Happy Cooking!!!