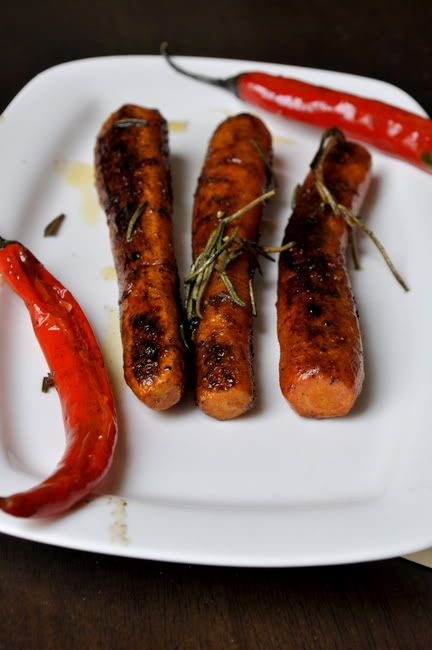 I like carrots, they are sweet but tastes great in a savory dish. They are crunchy, look so pretty n' is packed with healthy nutrients especially Vitamin A, K n' C. (I learnt all that from the Active Foods workshop I recently attended). So anyways, Rj doesn't like it when I cook carrots, (for that matter most veggies) so I clean them n' give them in his salad n' he enjoys that. So I bought some extra yesterday. But I forgot to give him any last night n today he has some office thing so didn't need lunch n' won't be back before late in the night.
So I was looking at an option to make a juice. But then I came across this recipe for grilled carrots n' I just fell in love. I have been hoarding posts for later. But with this one I just couldn't wait to publish it. I totally love this recipe n' the kitchen smelt so good after grilling them with rosemary. You just have to try this. Our awesome friend, Jeffrey, who was with us in Bahrain, had given me this grill pan (I had even used this in my
Hara Bhara Paneer Tikka
recipe too) and its just so useful. He wanted me to show off this pan here n' I thought this recipe is perfect for it. lol.... I love it n have used it to make this. The recipe is adapted from
here
. So here you go.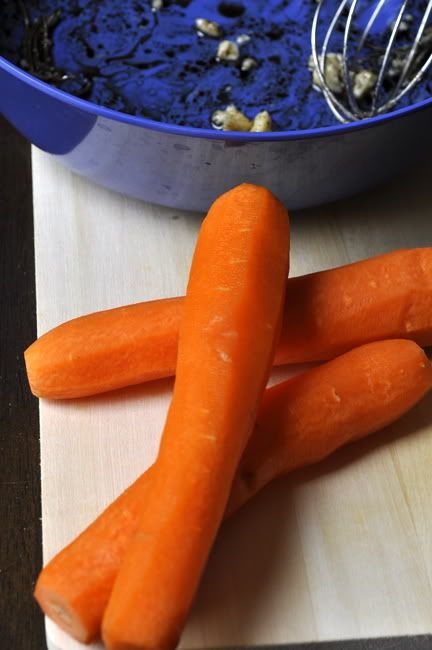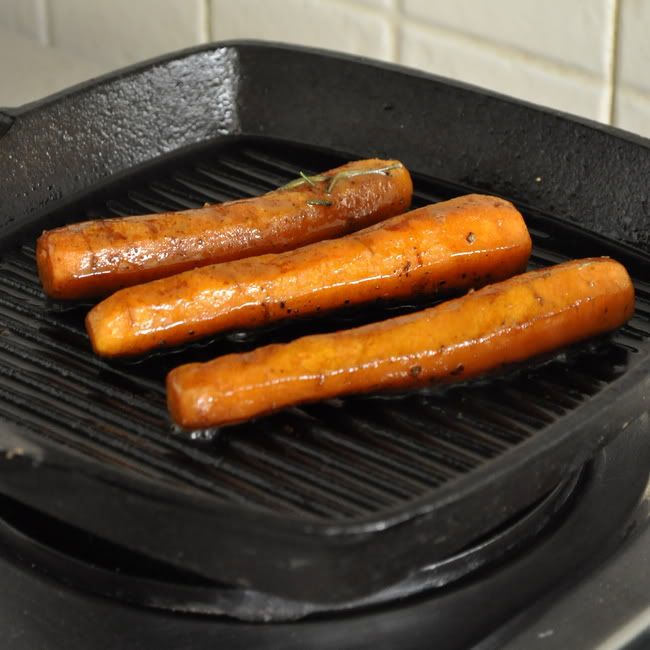 Ingredients:
1. Carrots: 3nos
2. Butter: 2-3 tspn (room temperature) (yeah I was a little generous, I used salted Amul Butter)
3. Extra Virgin Olive Oil: 2tsp
4. Balsamic Vinegar: 1 tbsp
5. Rosemary: 1 tsp (chopped) fresh
6. Salt: if required
7. Fresh Black Pepper: as per taste (optional)
Method:
Step 1: Heat grill pan to high flame.
Step 2: Whisk together butter, olive oil, vinegar, and rosemary.
Step 3: I left the whole carrots in the marinade for couple of mins and then arranged them on the grill and brushed them lightly with the marinade occasionally. (all this should be once you have changed the flame to low. (keep them in the warm area first before shifting them to the hot area on the grill.)
Step 4: Grill for approximately 20 minutes, turning occasionally to prevent extreme charring.
When carrots are softer, but still slightly firm, remove from heat.
Step 5: Add to a serving platter and drizzle with the remaining marinade. I had to add a little more salt n' some freshly ground black pepper to give it an extra kick (but that is totally optional). I even grilled 2 red chilies along with this in the last 5mins n' ate it along with this. Try it try it...its good...Happy Cooking!!!