You know how you find this truly amazing recipe, which gives you great results every time, wows the people you serve it to n' all that. That was what was happening with my tried n' tested
Prawns Ularthiyathu
recipe passed on from my mom. Every time we buy prawns, Rj wants me to make that. In March, when my father in law had come to stay with us, I had made it for him n' he loved it. He told everyone possible how good it was. I think, I will never be able to make that dish without fondly remembering how much he appreciated my efforts.
But I thought to myself, its high time I found another awesome recipe. I came across this continental recipe for Shrimps in Coconut Milk n' made a note that I should try it soon. Haven't had shrimps/prawns since more than 2months n' I was looking forward to this recipe. Meanwhile, I happened to come across
Satrupa's Blog- Food For Thought
....(yeah even I couldn't believe I'm seeing her blog only now...:( ). If you haven't visited her blog, please do so now!! Check out one of her recent post
here
. After taking a look at that, there was no way I could think of doing the continental less spicy version of Shrimps in Coconut Milk. ;)
Here
is a good link to read about the simple differences between Prawns n' Shrimps.
Another thing that attracted me to this recipe was how the measurements mentioned were perfect for two. This way, I didn't have to ransack my brain n' convert the measurements to suit us. Initially, I'd decided to stick to her recipe without changing a thing, but as I started cooking, I had to tweak it a little bit. I'm always surprised how 2 people following a recipe could come up with different tastes n' even look sometimes. I'm talking about dishes like that perfect chicken curry or biryani my mom makes, which just doesn't taste as good as her's does, when me n' my sister tries the same recipe...lol. Like I mentioned earlier, I have a lot of older posts to do, but this curry turned out to be a winner n' so did the snaps. So I just couldn't resist doing this post today. So here you go....
Ingredients:
1. Shrimps/ Prawns - 12nos (medium size)
2. Onion - 1/2 (medium size)
3. Garlic Cloves - 4nos
4. Ginger - 1/2 inch
5. Cinnamon Stick - 1 inch piece
6. Cumin - 1/2 tsp
7. Coriander Powder - 1/2 tsp
8. Chili Powder: 1/2 tsp
9. Turmeric Powder: 1/2 tsp
10. Tomato puree - 1-2 tsp (depending on how sour you like it)
11. Mustard Seeds
12. Fresh Green Chilies: 2-3 (per taste)*
13. Curry Leaves - few
14. Coconut Milk - 1 cup
15. Kodampuli/ Cambodge: 1-2 (soaked in water)
16. Salt per taste
17. Oil
Method:
Step 1: Grind Onion, Ginger,Garlic,Cumin seeds,Coriander powder,Chili powder, Turmeric powder, Green chilies and Cinnamon to make a smooth paste. (add a little water or oil to help grind it well)
Step 2: Marinate the Shrimps/ Prawns with little turmeric and salt and keep aside for 10 minutes.
Step 3: Avoid this step if you are using store bought tomato puree. I didn't have any with me, so I chopped half a medium sized tomato n' boiled it with a little water. Once that is done, mash the same to form a thick paste/puree.
Step 4: Heat oil in a wok and fry the Shrimps/ Prawns just for few minutes so that they turn opaque. Taking care not to over fry them or they would turn rubbery.
Step 5: In the same wok, add more oil if required. Allow it to heat and hot temper it with mustard seeds and curry leaves.
Step 6: Add the ground masala and salt and fry till the masala is cooked well and there is no raw smell. Add tomato paste/ puree into the above.
Step 7: Add the coconut milk and allow it to simmer. Add the kodumpuli with water into this.
Step 8: Add some water if needed to adjust the consistency. Add the fried shrimps/prawns and simmer for 2 minutes before turning off the heat.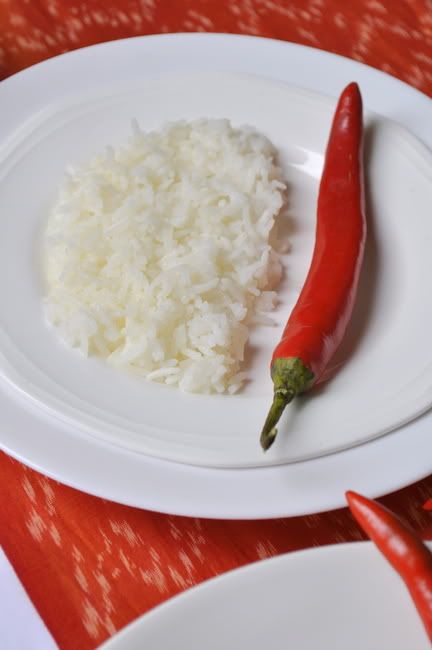 Serve it with some hot rice and it tastes divine. The reason why I changed Satrupa's recipe a little was coz I just wasn't able to get the color right. I think it could be coz of the good quality tomato paste available there or something. But anyways the taste was spot on. :) Happy Cooking!!!