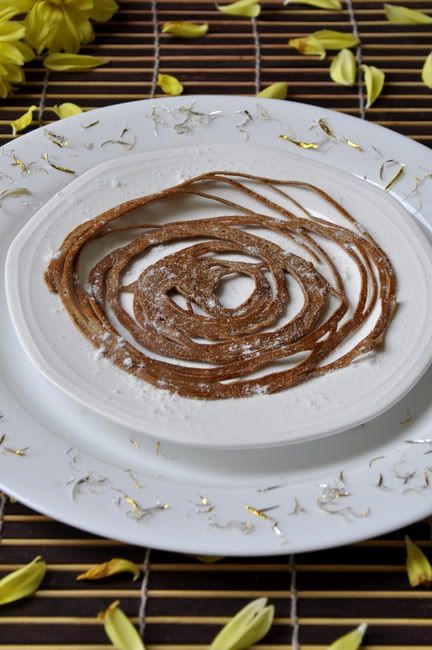 I love crêpes, especially savory ones. I used to frequent the
Crêpe Cafe
in Bahrain. My favourite was their Florentine Crêpe, with a filling of spinach, feta, mushrooms, bechamel sauce and cheese. It was so so yummy. I miss not being able to dig in to something that good. Anyways, you know how infrequent my sweet posts are, so I decided to try n' make a sweet crêpe instead of a savory one. And NO surprise surprise, it turned out really well. ;)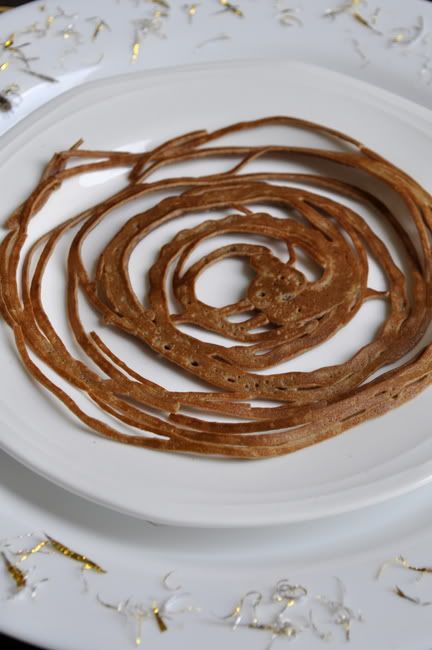 I have tasted a lot of chocolates, both here n' while travelling abroad. But my sense of loyalty towards Cadbury's Dairy Milk has remained unwavered. :)....Infact a while ago, I even asked my friends on FB to tell me how to eat
Cadbury's Silk the way they show it in the ads
. :)...comments poured in with their gooey Silk experiences. If you haven't eaten Cadbury's Silk Chocolate the way they show in the ads, then you must do so asap! (to make it gooey, just pop the chocolate bar in the microwave for 5-10sec n' then have it) Really worth it...;)
I came across a chocolate lace crêpe recipe on Joumana's blog,
Taste of Beirut
a while ago. Fell in love, bookmarked it n' promptly kept it for later.:) A special thank you to Joumana for sharing such a lovely recipe...Rj recently gave me some Cadbury's Dairy Milk, I wanted to try something with it than eat it just as it is. I have often heard how one cannot use Dairy Milk for baking (no matter how much you love its taste) and that one needs to use cooking chocolate. But since this recipe involved no baking, I decided to use Dairy Milk. :) It tastes great. Other than this I have followed her recipe. So here you go....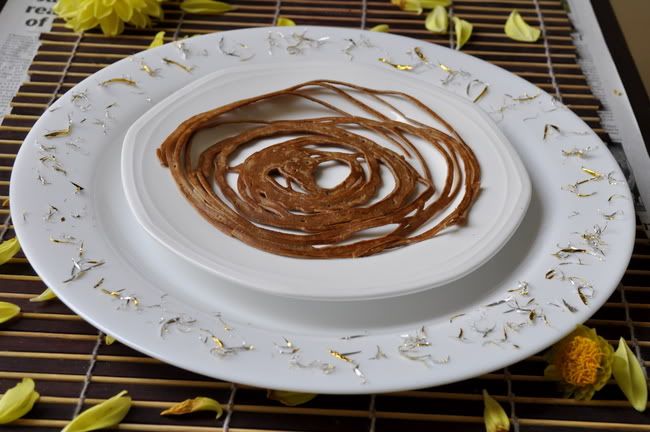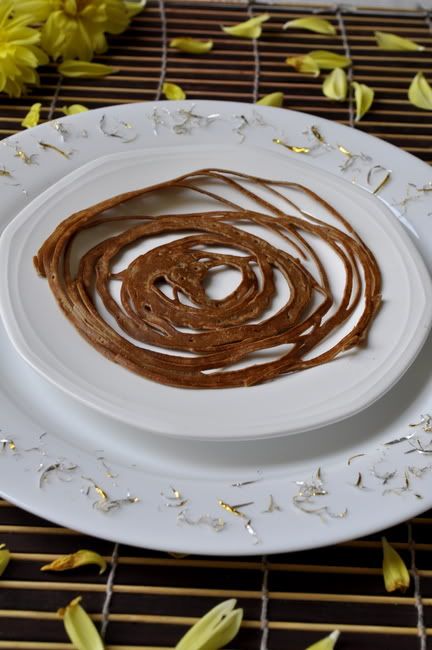 Ingredients:
1. Dairy Milk Chocolate: 50gms (use any chocolate you like)
2. Eggs: 2nos (large)
3. All-purpose flour: 175 gms or 1 and 1/2 cup
4. Salt: as per taste
5. Powdered Sugar: 125 gms or 1/2 cup
6. Melted Butter: 3 tbsps or 45 gms
7. Milk: 250 ml or 2 cups
8. Vanilla Essence: 1 tsp
9. Cocoa Powder: 1/2 tbsp
Method:
Step 1: Beat the eggs in a bowl.
Step 2: Mix the flour, cocoa, salt and powdered sugar in another bowl. Transfer to the eggs and mix the two with a spoon.
Step 3: Melt the chocolate with the butter in the microwave and add to the batter
Step 4: Add the milk and vanilla gradually, stirring constantly until the batter is smooth and has no lumps. Set aside for thirty minutes.
Step 5: Heat the skillet and brush it with a little butter or oil so that it has a film of grease on the surface, no more. Pour the batter in the bottle or a decorating bag with a very small tip and pour the batter onto the skillet making circles, loops and other designs.
Step 6: When the crêpe appears cooked (two or three minutes should suffice on medium-high heat), slide it into a platter or on a piece of wax paper, to cool a bit.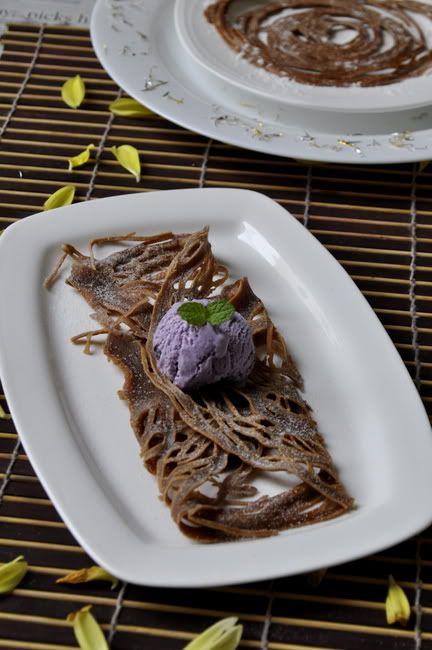 Serve with some powdered sugar. I think this is a great dessert to be served with some ice cream or fresh fruits. The only thing is, I thought it tastes best when served hot n' slightly crispy. So serve it as you make it....(if that is possible). Happy Cooking!!!